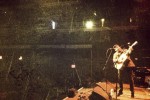 BRYAN MCPHERSON
In 2012 Bryan released the critically-acclaimed album American Boy / American Girl on State Line Records. He then launched a successful Kickstarter campaign for a reliable tour vehicle and embarked on an extensive national tour, sleeping mostly in his van in the parking lots of oppressive department stores, and singing his gospel for the masses. He has performed alongside Amanda Palmer and Michael Moore at
the Occupy Oakland Encampment, with Steve Earle in San Francisco for Litquake's Woody Guthrie Tribute Show, and appeared at an exclusive show in East London, playing to a capacity audience. He has been featured in The Huffington Post, The Boston Phoenix, Dig Boston, and The San Francisco Bay Guardian. He currently resides in Los Angeles, California.
The following article appeared in The Boston Phoenix in April of 2012. By Barry Thompson
There's no shame in baring your soul for the pleasant old folkees who haunt open mic nights at your favorite independent coffee shop. So, no offense to singer/songwriters who present their folk in that genre's traditional contexts — but, should the opportunity arise, those people should all try playing a club packed with tattooed toughs who've just been prompted, by an Agnostic Front side project, to jubilantly punch each other in the face for 40 minutes.
The first time he knocked my socks off, Bryan McPherson contended with precisely these conditions on a 2009 bill headlined by Street Dogs at the Paradise. And he'd later go on tour with the Dropkick Murphys, including gigs in Boston during St. Patrick's Day week. By the time emulating Billy Bragg became fashionable, or anybody was self-applying the phrase "riot-folk," the Dorchester-bred songsmith was an old hand at being the token folk guy playing the punk-rock show.
"Remember ska-punk? Same deal," he says via phone, when asked about all the folk-punk bands that have been running around for a few years. Even coming from an artist who's lumped into a notably unpretentious genre, that's some impressive "cut the bullshit" candor. Then again, as the unfussy ballad of nuclear revenge he titled "Me, I Am Anger" reminds us, you can't truly wear your heart on your sleeve while keeping its black spots hidden. A Boston release show for McPherson's first album in five years, American Boy/American Girl(State Line), goes down tonight (Thursday) at T.T.'s in Cambridge.
Half a decade seems like a long time between albums, but something in McPherson's head clicked once he soaked up a change of scenery. Not that there's any "sunshine and surfin' " Best Coast–type shit on American, but his mostly for-the-fuck-of-it relocation from Boston to Berkeley 18 months ago provided an overdue muse.
"There are a couple of tunes on there about being somewhere where you don't know too many people, and the experiences of going west: putting your shit out on a curb, getting on a plane, and ending up there," he says, mid-jaunt somewhere in the vicinity of the mythic Oakland punk club 924 Gilman. "Sometimes you've got to wait for the right songs to come together to put something out."
But as can be expected from someone who spends a lot of time at Occupy encampments, disgust with our generally shitty national condition inspired several of American's trembling narratives. A forlorn harmonica heralds "Dangerous Friends," a catchy-as-hell remembrance of Southie crime bosses and their murderous shenanigans. A jostling ditty called "Black Man" lists dilemmas that are routinely incurred by basically anyone who isn't white, male, and unwaveringly heterosexual. The 2009 murder of Oscar Grant in Oakland provoked McPherson to pen
"I See a Flag." Grant, unarmed and pinned to the ground at the time, was shot in the back by a public transportation police officer. "They said it was an accident, I guess," muses McPherson. "If I shot a cop by accident, I think I'd be in jail for a very long time."