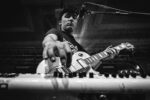 CHARLIE OTTO
Charlie Otto has been a Chicago favorite for 15 years, and he's just now coming to accept that. The founder of the cult darlings This Must be the Band and DJ noDJ, he's sold out venues around the United States, and has had the honor of playing alongside many amazingly talented people including some of his musical idols, like Umphrey's McGee and members of King Crimson and Smashing Pumpkins.
"charlie otto + his gear" is his first solo project, running on the cutting edge of both music and video performance. Almost no one else is spontaneously using their guitar solo to generate what you see on the screen, or turning a knob to both modulate a synth and distort the images in the video. The technology to connect the sound and visuals to this degree is only recently being developed, and with the help of video guru DRMBT, Charlie experiments and pushes this tech forward every show. You're welcome, future.
The songs are not experiments though, they're fully developed SONGS. The lyrics and chords are gushing with feeling, the drums are throbbing, the synths are huge, it's very electronic while still achieving rock and roll status – probably because most of it is controlled by Charlie's amazing multi-guitar. Although the entire show is danceable, don't be surprised if there are times you're glued to where you stand and your jaw stays open. Either way, it's something that you'll have to talk about later.