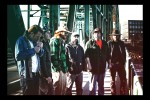 THE MALLETT BROTHERS BAND
Barn burning, country rock n roll: The Mallett Brothers Band is a "6-peice living inferno" (Dispatch Magazine). Their unique style of Americana, rock, country-bluegrass and folk translates into a beautiful mess of wood and metal while their lyrics pull you in to tell you stories of dirty trucks and longing heartbreak to blue skies and open roads. Not your typical Americana band, not your typical anything band, they're able to meld the sounds of their heroes like Waylon Jennings, Neil Young, and Steve Earle with the energy of a punk show and Floyd-like complexity.
"I love these guys and I don't even like country," has been heard on more than one occasion and speaks to their ability to draw from a diverse pool of influences. Every song is written on acoustic guitars but they all offer a side-road. They're a guideline to weave circumstance with cacophony as each song, each show, develops and evolves. They're no jam band, there is clear direction in what they propose, but they're not afraid of the unknown and will dive in when the time is right.
"Should you be among those relatively adrift, I suggest The Mallett Brothers Band as a surrogate. These guys know how to do family and community.
So writes Sam Pfeifle in the Portland Phoenix, the hometown newspaper that's been good to the band that formed just over three years ago in an exurban warehouse space in the seacoast city of Portland, Maine. After their first self-titled release in 2010, the Mallett Brothers Band were honored with three awards in the 2011 Best Music Poll released by the Phoenix (Best Local Act, Best Live Act, Best Local Album). The following year, after the fall release of 2011's "Low Down," the band was honored with not three but five awards in the 2012 BMP (Best Live Act, Best Local Act, Best Local Album, Best Roots Act and Best Song). With numerous other accolades including Best Maine Band in the 2013 New England Music Awards and a 1st prize finish at the 2011 "Rockin Country Showdown" hosted by 99.9 the Wolf, the Mallett Brothers Band quickly cemented their place as one of the regions most promising up-and-coming musical acts.
Acoustic and electric guitars, dobro, mandolin and a solid rhythm section, The Mallett Brothers Band has become one of the best acts to come out of New England. Come to a show and they'll prove it to you.