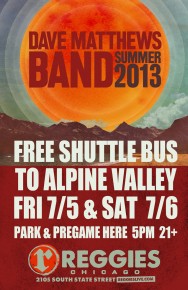 Dave Matthews Band at Alpine
FRIDAY bus room is still available!
SATURDAY buses are at capacity, but we are taking names for a waiting list in case of cancellations.  We will also welcome on a first come first serve basis anyone that shows up at Reggies on the day of the concert if we have no shows and room available on the bus.
The Reggies Rock Bus is going to Alpine Valley for Dave Matthews Band!
We're going to do a round trip bus run both July 5 and July 6 for the two Dave Matthews shows.
Seating for this must be reserved, please specify which day you are going and returning (you can go on the 5th and return on the 6th if you desire)  We  will not run unless we have a minimum number of people sign up, so grab your friends!
Sign up with your bartender, call us at 312-949-0120 or click the RSVP link to email to reserve your spot!