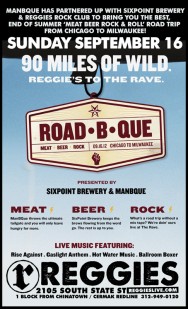 ROAD-B-QUE
Manbque has partnered up with Sixpoint Brewery & Reggies Rock Club to bring you the best, end of summer 'Meat Beer Rock & Roll' road trip from Chicago to Milwaukee!
Price:$55 for food, beer and ticket to the Show, $20 for food and beer only
The Meat
Start off with an all-you-can-eat tailgate party on the kick-ass roof-top at Chicago's legendary Reggies Rock Club from 2-4pm. Get your fill of Manbque […]
The Beer
Wash down that delicious Manbque food with some cold, refreshing Sixpoint Beer. We know you'll want some more after the tailgate, that's why they'll be tall,cold ones waiting for you on the Reggie's bus!
The Rock & Roll
Travel up to The Rave with the boys from Ballroom Boxer as they head up to open up for Gaslight Anthem, Hot Water Music and Rise Against!
More Info Click Here