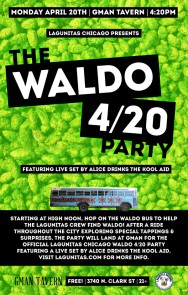 The WALDO 4/20 PARTY
Starting at High Noon, hop on the Waldo Bus to help the Lagunitas Crew find Waldo!  After a ride throughout the city exploring special tappings and suprises, the party will land at GMan for the official Lagunitas Chicago Waldo 4/20 Party featuring a live set by Alice Drinks the Kool Aid.
Hint: Our Reggies Rock Bus is the Waldo bus!  Stop in early for a chance to join the fun on April 20th!
Visit Lagunitas.com for more info.