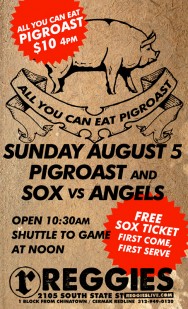 Pig Roast / Sox vs Angels Game
Free Sox Game Tickets to this Sunday's game to watch the First Place White Sox take on the Angels.
Come to Reggies on August 5th and you get a ticket to see the White Sox vs Angels at 1pm, round trip bus ride from Reggies to U.S. Cellular Field, AND all you can eat pig roast on the Rooftop Deck after the game! Only interested in the swine? Pay $10 for the buffet!
Reggies Opens at 10:30am Pig Roast Starts at 3:00pm
To reserve your Sox tickets send an Rsvp to busrides@reggieslive.com