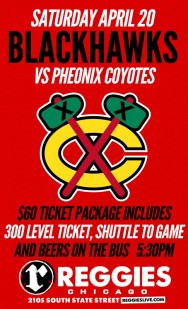 BLACKHAWKS VS COYOTES OUTING (TICKET PACKAGE AVAILABLE)
Join the Reggies Crew and watch the Blackhawks take on the Coyotes.
$60 Includes a 300 Level Ticket, Roundtrip Ride to the Game with Beer on the Bus!!
Meet at Reggies by 530pm, Bus leaves at 630pm Sharp!!
Already have tickets? Travel in style by hopping on our Reggies Rock Bus to see The Blackhawks play at the United Center.
Drop Off and Pick Up is at the corner of Madison and Wood