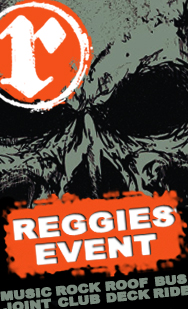 DAVID BOWIE HALLOWEEN BASH
Reggies & MCA Presents "Bowie Is"
David Bowie Is presents the first retrospective of the extraordinary career of David Bowie—one of the most pioneering and influential performers of our time. More than 400 objects, most from the David Bowie Archive—including handwritten lyrics, original costumes, photography, set designs, album artwork, and rare performance material from the past five decades—are brought together for the first time at the MCA.
Celebrate this special occasion and Halloween with a twist this year! Reggies will host "School of Rock" as the pre-party to the "Bowie Is" exhibit, shuttle guests over to the MCA "Bowie Is" exhibit and then bring everyone back to enjoy their hit Bowie Cover Band. That's not all, there will be a Bowie costume contest where Reggies will give away both $50 and $100 in Reggies bucks to the best dressed BOWIE. Check out the schedule of events below:
6:00pm "School of Rock" live at Reggies
7:45pm Shuttle to MCA "Bowie Is"
8-10pm MCA "Bowie Is" tour
10:15pm Shuttle back to Reggies for "Bowie Cover Band"
Don't miss out and be sure to get your tickets today!