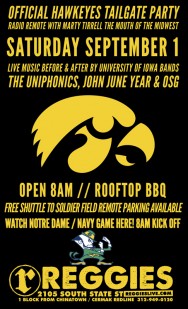 IOWA Vs NIU at Soldier Field
Reggies is the perfect spot to hang before and after the big IOWA Vs NIU game at Soldier Field. We're having an All You Can Eat Tailgate Buffet before the game.
The Music Joint is 21+. If you are under 21, you must be with a parent or legal guardian to enter. Families are welcome. The Music will be in The Rock Club and it is All Ages.
A cash parking lot will be available at the corner of Cermak and Wabash, Free Rides on the Reggie Bus to Soldier Field and back. Multiple runs will be made.
Come on out and enjoy some great food, music and fun, before and after the big game.
Open at 8:00am for the Early Birds to watch Notre Dame vs. Navy in Ireland
Do you have a big group that wants to reserve some seating or party packages? Contact Jody Zagger to plan your event.