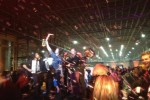 BLACK BEAR COMBO
Black Bear Combo was formed in 2002 by Doug Abram, a noise drummer inspired to take up horns after hearing Romany musicians in Ceske Krumlov. Our travels have taken us across the country, to festivals on both coasts, Mardi Gras parades in New Orleans, the Halloween party at the White House, and every nook and corner of Chicago. We've played rock clubs, basements, festivals, weddings, funerals and parties of every description. Our sound is rooted in different styles from eastern Europe which we play in a way that's all our own. But it would be nothing without sharing it, so we'll see you at the next show!!!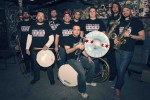 FOUR STAR BRASS BAND
There ain't no party like a Four Star Party. We are a professional Chicago based New Orleans Style brass band ready to play any party. From festivals and stages to weddings and crawfish boils, we are bringin' the Louisiana sizzle to you all night. Come fuel the excitement as the FOUR STAR BRASS BAND becomes the hottest and hardest hittin' Brass Band of their generation.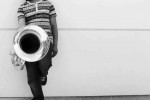 That Gray Guy & The Gray Era
Musician, Composer, Band Leader—just a few words to describe "That Gray Guy", Amir Gray. Music has always been an important part of Amir's life, starting with his Mother's gift of a radio at 2 years old. Yes, 2 years old. He would listen to all types of music; R&B, Jazz, Gospel, Country and Rap. Amir could sing almost every song he heard and spent time performing at talent shows and in choirs.At 9 years old, Amir's Mother enrolled him in piano lessons. However, the piano did not hold his interest and Amir refused to practice. A few years later, Amir wanted to join the school band, but due to the piano practice debacle, his parents were skeptical. However, his persistent requests to join the band paid off. During the band introduction meeting, where children were allowed to try out instruments to determine what they wanted to play, Amir's Mother overheard other parents referencing the Tuba as the "college scholarship" instrument. His mother suggested Amir try the Tuba and the rest is history as they say.

Amir is a natural Tuba player and progressed very quickly into musical prodigy status. After only playing the Tuba for a few months on a rental Tuba from school, he won first place at the Illinois Music Education Association (IMEA) Solo & Ensemble Competition (7th and 8th Grades).

Because of his natural ability and desire to learn more, Amir wanted to audition to attend the Chicago Academy of the Arts. He was the first Tuba player to be offered and accepted into this school, however the school did not provide instruments to students. Amir and his Mother then embarked on a fund raising campaign to purchase a Tuba, by street performing in Chicago. They did raise enough money to purchase a Tuba by the start of school.

The Chicago Academy of Arts was not the best fit to cultivate Amir's talents so he transferred to the Emerson School of Visual and Performing Arts in Gary, Indiana. For the next 3 years, Amir was playing music 7 days a week, which included his first Funk band "SCADD", Emerson Concert and Jazz Bands, Chicago Youth Symphony Orchestra, Chicago Youth Concert Orchestra, Northwest Indiana Youth Symphony Orchestra, Gary Civic Orchestra, and Merit School of Music Program. During this time, Amir placed first all three years in both solo and ensemble at Indiana State School Music Association (ISSMA), scoring a perfect score in his senior year solo.

Amir received a partial scholarship to attend the Jacobs School of Music at Indiana University-Bloomington. His collegiate years were spent playing in the concert band and orchestra, IU Marching Hundred, Walrab Jazz Ensemble, David Baker Jazz Band, and first Tuba player for Latin American Popular Music Ensemble and IU Soul Review. It was at IU that Amir decided he wanted to be a full-time musician.

After finishing his studies at IU, Amir joined "Judah Band", a gospel rock band and performed as the horn section for that band. Judah Band recorded a CD and live DVD that is scheduled for release in Spring 2015. Amir then formed his second band "ILL Intentions" and served as Band Leader, Composer, Lyricist and Tuba Player. He also started to gain momentum in the Indiana music scene and played for Jiradon Ensemble (Afro-Cuban), Jefferson Street Parade Band, Bam Bam's Brass Band, and the Magmatx. Amir relocated back to the Chicago area from Bloomington, Indiana and also gained significant attention in this music scene by playing with groups like Da$htone, Oby, Tovi Khali ft. Sam Fullerton & Nem, Soul Speak. He also has had the opportunity to play with musical greats Fred Wesley and The New JB's, Orbert Davis' Chicago Jazz Philharmonic, Carl Weathersby, Lindsey Alexander, and Eddie Shaw.

In June 2014, Amir started his third band "Gray Era Brass", which started off as an all brass band that street performed in Chicago 6 days a week. One of those performances was captured on video and place on YouTube and caught the eyes of a television show producer. From that, Gray Era Brass will be featured on an upcoming episode of the Fox Television show, "Empire".

Amir is currently working on an EP, set to release in March 2015. When asked what's next in his musical career, Amir simply responds, "I want to be known as one of the musical greats" and he is indeed on his way there.