Carnivale Delirium:
The Midnight Cabaret 2016
!"
 featuring
Swingrowers, The Squidling Brothers, Ammunition, Ray Gunn, Vourteque, Black Jake & the Carnies, Gaea Lady, Violet Vendetta, Mr. Automatic. Hosted by Sammy Tramp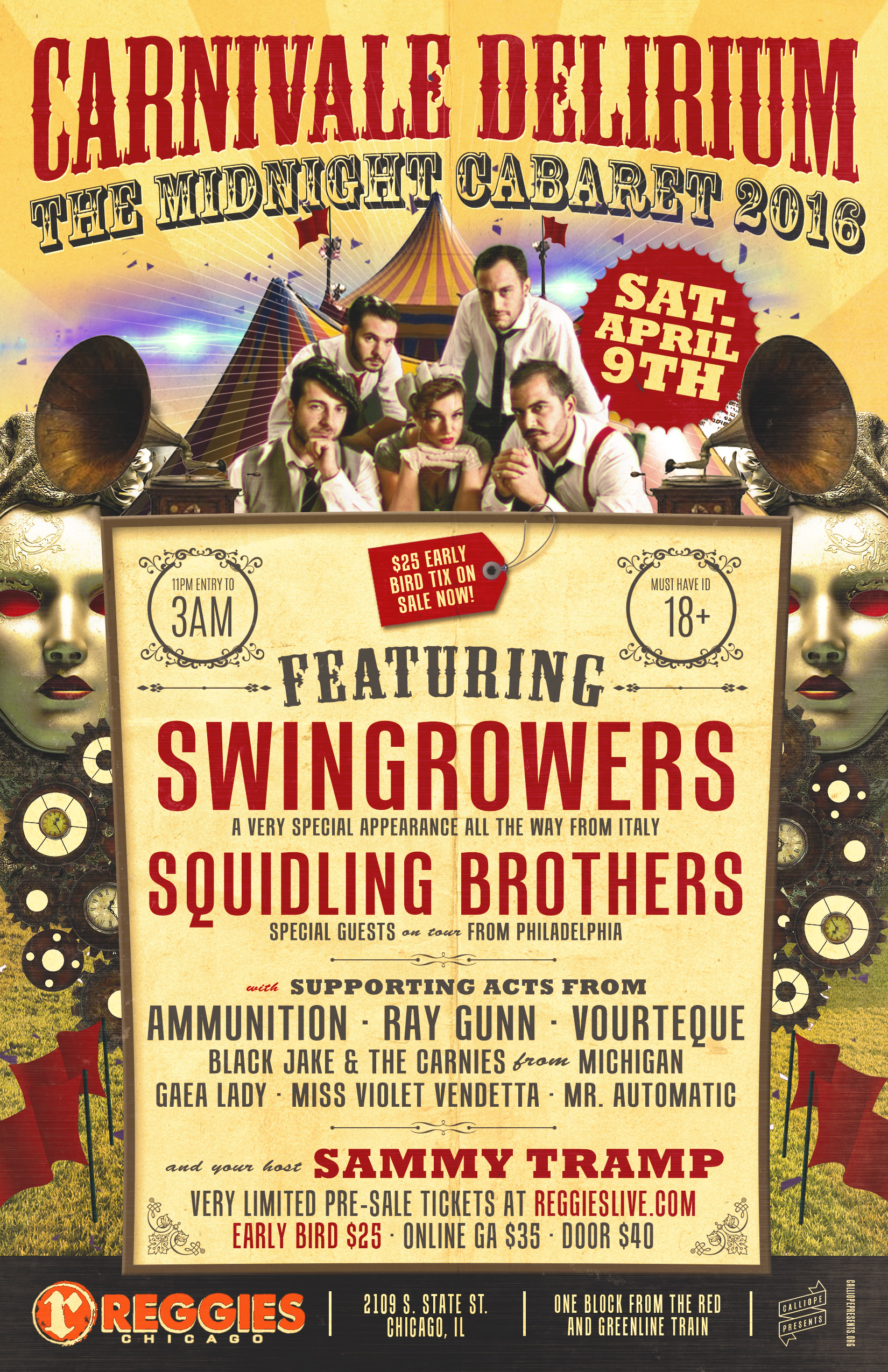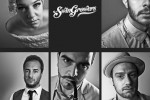 SWINGROWERS
(from Italy)
Swingrowers are a quintet from Palermo, Sicily and are noted for their irreverent style, which blends the freshness of dance music, with the warm influences of swing from the 20s and 30s.
The project initially began with Roberto Costa a.k.a. "Pisk" (one of the most active producers of electronic music in Palermo) and Loredana Grimaudo (Brilliant voice of 'OPRP). And have since been joined by manouche guitarist, Alessio Costagliola and much more recently saxophonist Ciro Pusateri (A protagonist during the tour of the Fifth Space and Rodrigo Phalen) and violinist Davide Rizzuto (itinerant musician & winner of the XI National Contest for Young musicians).
In 2012 they won the title "Best Hope 2012" in the competition "Electro Swing People Favorite 2011". Since then they have shared the stage with Caravan Palace, Parov Stelar and Chinese Man in their live shows in Europe. They have had the privilege of opening the only Italian date of Parov Stelar at Alcatraz in Milan. In April 2013 they first toured overseas in the USA and Canada, which has seen them play sell-out shows in San Francisco, Portland, Seattle, Vancouver, Montreal, New York, Chigaco, Toronto and Detroit. The Swingrowers have been constantly touring around Europe, playing at world renowned clubs and events such as: Electro Swing Club in London, Alcatraz in Milan, London Hootananny, Java and La Machine du Moulin Rouge in Paris, Electro Swing Cabaret Toulouse and Lyon, Swing Circus of Turin, Jitterbug of Nottingham and the White Mink Club nights in Brighton and London as well as numerous summer festivals like Secret Garden Party, BoomTown, Latitude, LoveBox, Wilderness.
The band are signed to Freshly Squeezed – a Brighton (UK) based independent record label and music publisher. Their first album "Pronounced Swing Grow'ers" was released on Freshly Squeezed in September 2012 and has since gone on to become a staple soundtrack for many electro swing compilations and club nights. In early 2015 the released their second studio album 'Remote' featuring the full 5 piece band. In February 2015, they shot a stunning music video at London's listed Rivoli Ballroom (https://youtu.be/9Jy8pK7tTzg).
Swingrowers have collaborated with a number of different artists, including Dj Pony Montana from Feel Good Production and Gypsy Hill as well as producing an official remix for Caro Emerald's track "One Day". (http://youtu.be/MQ9Zl-rAmYM). Swingrowers have also released a series of singles as part of their "Do not COVER EP". The last single in the series featured 'The Lost Fingers' in a cover of Technotronic's 1989 hit 'Pump Up The Jam", which also included a music video: (https://www.youtube.com/watch?v=QUOQG4qM8uU).
Swingrowers are one of the most exciting rising talents within the retro music scene and "a band maturing at a rapid pace".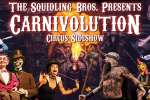 THE SQUIDLING BROTHERS
Offering a Edgy and Humor-filled Twist on the Classic American Sideshows of the Early 20th Century, Brothers "Matterz Squidling" and "Jelly Boy the Clown" Have Created an International Sensation with a Dare-Devilish Mix of Music, Freak Show, Dancing, Unusual Sword Swallowing, Aerial, Burlesque and 
Body Modification
The Squidlings Perform Across the U.S. And Europe at Carnivals, Festivals, Bars, Squats, and Large Theaters.
The two Philadelphia-based brothers "Jelly Boy The Clown" (Living Cartoon and Natural-Born Weirdo) and "Matterz Squidling" (The Impenetrable Music Man) stepped right up in 2007 to create The Squidling Bros. Circus Sideshow. Putting a comic and dare-devilish spin on the classic American Sideshows of the early 20th century.
A few acts you can expect to see are fire breathing, a man walking up a ladder of machetes barefoot and jumping into a pile of broken glass without a scratch! "Unusual sword swallowing," which involves shooting fireworks out of a sword or shooting a jet of flame out of the handle! Syringe needles pierced through various parts of the body. A large metal anchor spun by pierced ear lobes. Nail beds, humans and chickens stacked together in a delicate balance.
While Jelly Boy describes their first tours as "throwing everything in a few bags and boxes and hitting the road, flying, taking the train, whatever it took to get there," they've since evolved into a must see sensation. Over the past few years, the Squidling Bros. Circus Sideshow have performed with Primus, Exploited and Circus Contraption. They have appeared at the Bohemian Carnival with the Vau De Vire Society, The Coney Island Rockabilly Festival 2008-10, The World Steam Punk Expo Detroit 2010, Opatijske Barufe 2011 in Croatia, Theatre Bizarre 2009-12 and The Amsterdam Tattoo Museum in 2012.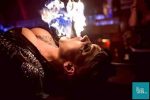 AMMUNITION
Ammunition is co-founder of the performance troupe SS-Triple X. She has been gracing Chicago's stages as an independent performer since 2006. She specializes in neo variety burlesque, feather, parasol, silk fan and LED isis wing dances, fire-eating and breathing, palm torch, angle grinder acts and body modification rituals. Merging visual percussion with power tools, Ammunition leaves the audience hot in their seats!
Ammunition holds residency at Chicago's most notorious party, Porn and Chicken Dance Party! She is a resident performer at Debonair Social Club's No Tell Motel produced by Sammy Tramp! She is an active participant in Chicago's Burning Man Community and in Black Rock City. She also was featured grinding sparks for Steve Aoki, Skism, Derrick Carter, Figure, Buku, Felix Da Housecat, Tommie Sunshine and Ghastly! You may have even spotted her onstage grinding for 2011- 2014's Northcoast Music Festival, Wavefront Music Festival, Spring Awakening Music Festival in 2012-2016, Life in Color and Reaction NYE at Rosemont! She has returned to the stage in Madison for the Fire Ball Masquerade for 4 years in a row and will be returning 2017! She made her Show Me Burlesque debut in St. Louis and Snake Oil Festival in NOLA in 2016!
She was nominated, competed and won the Performing Artist of the Year award from Chicago Raw Artists in 2011. She also won Best Gogo Dancer of 2015 for Chicago Nightlife Awards!
Ammunition is fire and grinder insured through Specialty Insurance Company.
She is locked and loaded, she is Ammunition.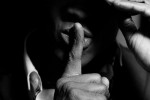 RAY GUNN
The reigning 2013 King of Burlesque! He's the rough and tumble Johnny… and like your morning cup of coffee, he's strong, black, and keeps you going all day long! Ray, has headlined at burlesque festivals and shows across the U.S., Canada, Australia, and New Zealand with his smoldering, sexy, and frequently avant garde solo acts. Trained in contemporary dance, acrobatics, capoeira, and pole dancing, Ray creates imaginative works of strip-tease art that show off his athletic ability and inspired choreography. Ray served on the creative team of 'Beggar's Carnivale' in St. Louis and recently was a featured presenter at Burlycon in Seattle. He is quickly becoming known for his large menu of insightful burlesque and dance workshops.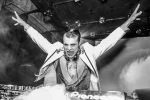 VOURTEQUE
Vourteque is a fixture in the national neo-vintage and vintage remix movement.  A staple in The Hangar at The Electric Forest Festival, a twice returning Dj for the San Francisco Edwardian Ball, founder of the Rouge! dance party series, and manager of the Lords & Ladies stage at the massive Theatre Bizarre in Detroit, Vourteque is a dj and performer who fuses vaudeville, circus, and burlesque with electro-swing and neo-vintage beats.  As a variety performer he's been seen at The Slipper Room in New York, The Lagunitas Beer Circus in Chicago, The Castle in Tampa, The Gatsby in Austin and many more.  Vourteque's also a part owner of Dead 2 Me Records with two releases under his belt including The Iron & Jazz Age with its lauded electro-swing cover of "Magic Dance" and the grim industrial blues track "No Teeth".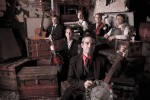 BLACK JAKE & THE CARNIES
The idea for Black Jake and the Carnies came to Jake in 1999, when he had an ecstatic vision of a band playing fast-paced music on traditional instruments, full of entertaining gimmicks, props, and crowd interaction," says the band. "The original incarnation of the band started in 2002, and played one disastrous Halloween Show before breaking up. Jake kept the vision alive and kept writing songs over the next four years until one day in 2006 he decided to get a band back together. A few guys who knew some guys down the street eventually turned into a new Black Jake & the Carnies overnight. Through various line-up changes over the years, they've continued to deliver Jake's vision to the delight of unsuspecting audiences in both the U.S. and Europe.
The band, comprised of Black Jake (banjo, vocals, songwriting, tambo-snare pedals), Scotty Karate ("Honkey-Tonk-Machine" — drums, lap steel, mandolin, vocals), KK (guitar, vocals), and Ozzie Andrews (upright bass, banjo bass, sousaphone), are four hard-working men from Washtenaw County, Michigan who wallow in the imagery of sideshows and carnivals. "When you grow up in a small town, you have hair down your back and everyone's a redneck, you get called a freak a lot," Jake told Detroit's Metro Times in 2011. "So I get attracted to the outcasts, the freaks, being somebody who's on display."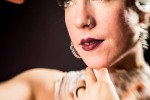 GAEA LADY
Gaea Lady has been moving in mysterious ways since she was 3 years old and hasn't ever given it up. An enchantress by nature, she sees her body as her instrument to express herself. Studying classical forms to start her career, her attention soon went the way of the ethereal including fire, hoops and hypnotizing fabrics. Dabbling amid any form she can get her toes on, her style borrows from the graceful and energetic mix of all she's studied in the past. Featured in the Kiss Kiss Cabaret , at Untitled's Unbridled, The Naughty Little Cabaret, The Drifter, and with Pyrotechniq Fire Troupe, she travels all over the United States performing & teaching. become enchanted.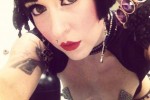 VIOLET VENDETTA
Violet Vendetta is a nationally touring circus, aerial and burlesque performer based in Chicago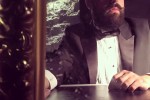 MR. AUTOMATIC
Mr. Automatic is the alias of the man behind Chicago's Dead 2 Me Records, Bill Holland. His style has its origins in Electro and Nu Disco, although recently his jazz roots have come to the forefront as he has started fusing these genres with Electro Swing. Along with Vourteque and performance artist Lady Lenux, he formed the successful Rouge! Chicago's Electro Swing Night in late 2013. He also currently holds down a residency at Untitled's Unbridled night in downtown Chicago. He has opened for a wide range of acts including Lord Justice, Light Year, Good Co., Lady Miss Kier, Dutty Moonshine, Tycho, and Plastic Plates.
Outside of remix work and production as Mr. Automatic, he also produces as Square Frames with onefiftyone. Additionally, he is co-founder of Front 312, a well-established Chicago DJ collective with an emphasis on combining old-school alternative classics with new-school synth-based music. As a live performer, he is a founder and synth player for the band Many Moons.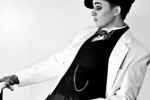 SAMMY TRAMP
(Hosted by)
Sammy Tramp is a wandering hobo and loveable scamp and one of the most original performers in the neo vaudeville, cabaret, and burlesque scene. She graduated from Columbia College Chicago in 2006 with a Bachelor's degree in theater. A lifetime lover of silent films, slapstick comedy, and all things old timey it was only fitting that she joined and helped create the Silent Theatre Company, a company based out of Chicago that specialized in bringing silent films to life on stage. The company's inaugural show, Lulu, in which she played the title role, was a critic and fan favorite heralded by the New York Times, The Chicago Tribune, Variety, and The San Francisco Chronicle among others. She left Chicago in 2010 and began performing as a soloist as well as creating and directing original shows in St. Louis; The Happy and Humpy Traveling Medicine Show and then the very popular Beggar's Carnivale in which she is the artistic director. She is also one of the co-producers of Van Ella Production's Show-Me Burlesque and Vaudeville Festival which began in 2010 in St. Louis. Most recently, Sammy has created a one-of-a-kind old fashioned, moving picture company called The Traveling Flicker Factory. The Flicker Factory tramps from town to town, works with locales and performers within that location and puts together a comedic silent film written, directed, and edited by Sammy. Sammy's unique brand of high energy slapstick comedy and hat and cane juggling and manipulation has taken her around the world performing and headlining in everything from burlesque festivals, vaudeville shows, street festivals, music festivals, silent film events, children's events, concerts, private parties, and cabarets. Feverishly dedicated to the art of pantomime, silent film, live entertainment, vaudeville, and all things old timey, Sammy vows to honor the past by making it modern and relevant again.
Are you looking to liven up your event, make your audiences laugh, and "oooh" and "ahhh?" You should hire the one and only Sammy Tramp!
$25 Early Bird Tickets
Limited quantities available