CHEER-ACCIDENT
Hailing from the singularly vibrant musical hotbed known as Chicago, CHEER-ACCIDENT has been a creative, vital force in rock music for over 30 years. They constantly strive to surprise their audiences and themselves through relentless reinvention. From dreamy pop to angular art-rock, CHEER-ACCIDENT strikes a powerful balance between personalized and unique studio wizardry and the visceral excitement of a well-honed, explosive live rock band. The band is currently a septet, comprising of various members who have come and gone throughout the past two decades. Their body of work is unparalleled in its ambition and originality, and their most recent releases, "Putting Off Death" and "Here Comes The Sunset" (to name just two, on Cuneiform and Skin Graft, respectively) demonstrate how the band continues to improve with each passing year.
Current lineup:
Jeff Libersher- guitar, trumpet, vocals
Alex Perkolup- bass
Mike Hagedorn- trombone, slide trumpet, tuba
Thymme Jones- drums, vocals, trumpet
Laura Boton- vocals
Cory Bengtsen- woodwinds, synth, drums
DroneLayer- keyboards, vocals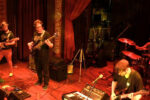 THE MERCURY TREE
This experimental Portland trio, formed in 2006, specialize in creative overuse of their effect pedals. Their latest material includes extensive live looping work, creating huge enveloping layers of sound. At best, they fuse the oddball rhythms and technicality of progressive music with a genuine sense of melody and emotion. Their most recent album, Freeze in Phantom Form, was released in 2012, and a new album is currently being recorded, to be released in September.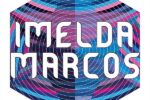 IMELDA MARCOS
Bubblegum avant noise rock for the children