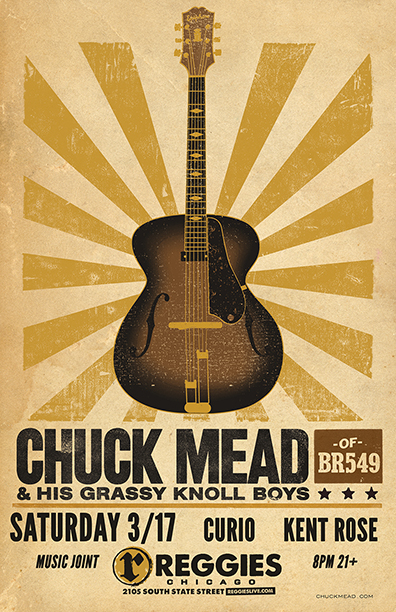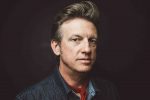 CHUCK MEAD & HIS GRASSY KNOLL BOYS
For the past twenty years, Chuck Mead has been at the forefront of what has come to be known as Americana Music. Raised in Lawrence, Kansas, Chuck has been a professional musician since the age of 13 playing in his parents country band and then leading several roots rock outfits in the midwest most notably the Homestead Grays. He landed on Nashville's Lower Broadway in 1993 where he co-founded the famed '90s Alternative Country quintet BR5-49. The band's seven albums, three Grammy nominations and the Country Music Association Award for Best Overseas Touring Act of 1997 built an indelible bridge between authentic American Roots music and millions of fans worldwide. Chuck has also co-produced popular tribute albums to Johnny Cash and Waylon Jennings, guest-lectured at Vanderbilt University, and became a staff writer at one of Nashville's top song publishers. In 2008, he was the Musical Director/Supervisor for the Broadway/West End musical Million Dollar Quartet (which broke the record in Chicago for longest running musical) and acted in the same capacity for the CMT television show Sun Records producing all the re-recordings of classic rock n roll, country, and blues. He has released three solo works starting in 2009 with his acclaimed solo debut album, Journeyman's Wager on the Grassy Knoll Records label, and continues tour clubs, concert halls and international Rock, Country and Rockabilly festivals with his band The Grassy Knoll Boys.
Chuck's acclaimed 2012 release, Back At The Quonset Hut (Ramseur Records), was recorded at Nashville's legendary Quonset Hut Studio where Patsy Cline, George Jones, Merle Haggard Roger Miller, Loretta Lynn, Johnny Cash and more cut some of country music's greatest tracks. Produced by original BR549 producer Mike Janas and with the participation of students from Belmont University's College of Entertainment and Music Business, the album of classic covers features surviving members of Music Row's original 'A Team' studio musicians Bob Moore, Harold Bradley, Hargus "Pig" Robbins, and Buddy Spicher as well as guest appearances by Old Crow Medicine Show, Elizabeth Cook, Jamie Johnson and Bobby Bare.
2014 ushered in Free State Serenade, on Nashville-based Plowboy Records. Produced by long-time ally and friend Joe Pisapia (kd Lang, Ben Folds Five) and featuring BR5-49's Don Herron, and Old Crow Medicine Show's Critter Fuqua, Free State Serenade is Chuck Mead's love letter to his home state of Kansas.
Chuck is currently working up new material for a 2018 record release and still oversees two Million Dollar Quartet productions and is developing some new theatrical stage shows.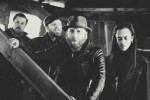 CURIO
Curio is a hell-raisin' and soul-shakin' rock n' roll band from Chicago, IL. Their music is steeped in southern gothic lore by way of the Midwest. Heavily influenced by the growl of Chicago blues, the low-down and dirty swamp rock of Louisiana and the twang of Tennessee country, Curio conjures a sound that has as many influences as there are miles on I-55 from The Windy City to The Big Easy. Chris Pluska and his band of wayward gamblers have been playing to crowds at juke joints, dives and clubs since 2009. Curio's live show has the fervent energy of a backwoods revival and the no-holds-barred attitude of a bar brawl. Their records are love letters to the bastards, brawlers, vagabonds, and believers who've shaped American folklore for better or for worse. Curio's tales have been described as 'Midwest murder ballads' that depict the timeless narrative of wrong-doing and temptation. Among their supporters from coast to coast can be counted Paducah, Kentucky's own J.D. Wilkes of Legendary Shack Shakers/Dirt Daubers fame who worked with the band on 2014's "Twisted Roots" album.
Chicago has historically been home to some of the most notorious cheats as well as tough-as-nails workin' folk and Curio walks the line between the rogue waltz of Prohibition-era bootleggers and the brute tenacity of the old Union Stock Yards butchers. Like their name implies, Curio is a collection of oddities whose sound has been weathered over the years.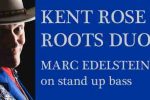 KENT ROSE ROOTS DUO
Featuring songs from Kent's latest CD, All That American Night, with Marc Edelstein adding new dimensions on stand-up bass and harmony vocals.
"He's a throwback to the guitar-toting country troubadours of yesteryear and at the same time a product of the rock and roll era, certainly the only performer of his kind in the greater Chicagoland area."     — Bill Dahl, author of The Art of the Blues.