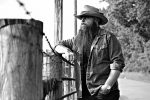 DALLAS MOORE BAND
Dallas Moore's old-school country sound developed honestly, following over 20 years of sharing stages and studios with his honky-tonk heroes. Satellite radio support, paired with a willingness to perform over 300 shows a year, finds the seasoned veteran positioned to reach the Americana masses with his forthcoming album Mr. Honky Tonk.
Tastemakers have taken note already, with the Dallas Moore Band crowned the Ameripolitan Music Awards' 2017 Outlaw Group of the Year. The award came after three prior nominations for the band No Depression credits with bringing "hangovers and excitement to outlaw country fans everywhere."
Recent career strides caught the attention of producer/country-music heavyweight Dean Miller, son of Roger Miller and an accomplished songwriter himself, having penned tunes with George Jones, Hank Williams III, Jamey Johnson and more. Miller entered Baird Music Group's Nashville studio with Moore and his band to record what was originally planned to be a five-song EP. "Out of all the things we've ever done, I think Dean captured what I do way better than anyone else we've ever worked with," Moore says. "It was the best recording experience I ever had."
The EP turned album after its barnstorming title track—a song Moore actually wrote 20 years prior—gained serious traction on Sirius XM satellite radio's Outlaw Country channel. The album's other tunes came more recently, all of them written in the past year and a half, making them clearer snapshots of how sharing stages (and rounds of shots) with his country-music idols has impacted his songwriting. "In the last several years, I've been real blessed to tour with a lot of my songwriting influences, and they've helped me improve my craft," Moore says. "Guys like Dean Dillon, Billy Joe Shaver and Ray Wylie Hubbard have been so supportive. It's really cool when your heroes become your friends, and that's what happened in the past several years."
Moore's stage show—already seen in years past by fans of Willie Nelson, Merle Haggard The Allman Brothers Band and Lynyrd Skynyrd—has improved with every opportunity to open for an iconic country or Southern-rock artist. "If you're playing in the slot before Dean Dillon," Moore says, "You'd better not suck."
Another crew of country luminaries performed on the album, including harmonica legend Mickey Raphael (Willie Nelson, Waylon Jennings, Chris Stapleton), famed Nashville session bassist Michael Rhodes and pedal-steel master Steve Hinson. "We walked in to the studio and saw all of these incredible players lined up," Moore says. "I thought they were there to play with someone else!"
Even with such ample backing, the main attraction on Mr. Honky Tonk is still Moore and his deft skill as a songwriter and lyricist. Like so many of his inspirations, he's an ace at spinning relatable stories. On "Killing Me Nice and Slow," he weaves an impactful tale of lost love ("It's a long way down when you're higher than a Georgia pine on love and whiskey the night before / Then you hear the slamming of the door"). From there, Moore puts his spin on time-tested country tropes such as celebrating place ("Texahio," a nod to splitting time between Texas and his native Cincinnati) and balancing Saturday-night hellraising with Sunday-morning God praising ("Shoot Out the Lights").
Moore's mother—a bluegrass and gospel performer herself—bought her son his first guitar when he was 16 years old. Before that, sports had been his first priority. "My big claim to fame back in those days—one year I beat out Ken Griffey Jr. for the most home runs in the league," Moore says. "But then I got a guitar the next year, and I quit—I walked away as a winner!"
A few years later, Moore enrolled at Northern Kentucky University to study jazz and classical guitar. But he found his true calling in a less high-brow environment around the same time, performing on the local bar scene in a country house band. Multi-night stints playing classic covers set a precedent for the Dallas Moore Band's sound and unrelenting tour schedule. And Moore's gruff vocals have made him an ideal singer of songs about hard luck and harder living as far back as his 1991 debut LP, My Heroes Have Always Been Cowboys.
Once Mr. Honky Tonk arrives in February, expect Moore to play nonstop in support of his new album. He played a whopping 327 shows in 2017, and that was without an album to promote. Who knows, he might just play solo or with his band every single night in 2018.
The Dark Horse Rider album featuring 10 new Dallas Moore originals was released on Sol Records in January of 2015. The Dallas Moore Band was nominated for Outlaw Group of the Year at the 2016 Ameripolitan Music Awards in Austin,Texas and for Country Artist of the Year and Singer/Songwriter of the year at the 2016 CEA Awards in Cincinnati, Ohio.
Moore's next release, a live acoustic album of new original music titled DALLAS MOORE: LIVE AT THE BULLITT COUNTY JAIL is slated for release in October 2016 on SOL Records.
Dallas Moore's music is featured regularly on SiriusXM Satellite Radio's Outlaw Country Channel 60, CMT.com, Yallwire.com and terrestrial AM/FM radio in America, Canada, Europe, Australia and Brazil. You'll also find Moore profiled in the book "Outlaws Still At Large!" by author Neil Alexander Hamilton along with Waylon Jennings, Willie Nelson, David Allan Coe, Blackberry Smoke, Wayne Mills & more.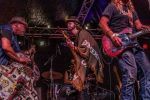 CRAIG GERDES BAND
Craig Gerdes is a singer whose voice is steadied by the legion of angels he believes watch over him. He tells stories at a Southern pace, with a soft voice and
slow drawl. His new album Smokin, Drinkin, and Gamblin is full of outlaw country rug cutters, and ballads about strong heads and weak hearts. Fueled by nostalgia, his songwriting talent turns old habits into dependable crutches, and nurses the phantom pain of missing lovers.

Though he hails from rural Illinois, his sound is four-on-the-floor, old-school, San Marcos, Texas-style honky tonk. His work is reminiscent of greats like Leon Payne, George Strait, Jim Lauderdale and James McMurtry. As great songwriters often do, he spent time as a writer in Nashville, where he had some success, and learned that his songs were too country for the cosmopolitan elite.

"Redneck Sonsabitches" eloquently details the story of his Nashville experience, one that put him in front of great outlaw songwriter Billie Joe Shaver. Shaver laughed with him about the difficult road honest songwriters sometimes face on Music Row, and asked him if he'd ever been to Texas. Another man of faith, Shaver ensured Gerdes they'd meet again, and three years later Gerdes opened a show for him outside La Grange. The song he penned about it is a swaggerin' chicken-pickin' electric two stepper. The band careens through a tempo change where he namechecks Shaver, who told him "Son, I know just how you feel," before he remembers what record companies remarked about his work—"You long haired redneck sonsabitches are not wanted here in Nashville, Tennessee."

Gerdes began playing country music at the age of 10 in the band of his father, who, as a child, would crowd around the radio with his family waiting for the wind to blow in just the right direction so they could pick up the faint signal from the Grand Ole Opry. The songs his father loved—by country icons like George Jones, Merle Haggard and Johnny Cash—provided the foundation for Craig's work. By age 12, he was already a capable songwriter and musician. And by 16, he'd wandered from the narrow path. "In the same summer," he recalls, "I totaled my car, broke my best friend's neck, dropped out of high school, got arrested and got married."

A few years later, after a chance meeting with a Nashville band, Gerdes wound up living on Music Row. For a time, he literally slept on the floor of a studio where greats like George Jones and Jerry Reed had recorded, a place that's now a one bedroom apartment. "I was hoping to soak up some of that mojo," he jokes about harder times. While Gerdes was able to gain traction with a publishing company and even do some co-writing, his traditional songs just didn't fit in. After years of the seven-hour commute back and forth from his family in unincorporated Pattonsburg, Illinois. (pop. 348), every weekend, he decided to go his own way, leaving Nashville behind and returning full-time to rural life. During this point in his life, while Gerdes was on a hiatus from songwriting to concentrate on raising his kids, his 16-year-old cousin was killed in a car wreck. He was compelled to write again by an angel he believes is her.

Many of Gerdes' songs embody the life of the traveler. While listening to the radio on a trip, he heard the story of a man found cut up in a box and was inspired to write the murder ballad "Dead In A Box In Kentucky." There's a Spanish guitar solo during the bridge that dances into a climactic finish that concludes with a Hitchcockian fratricidal twist. Gerdes' voice is at its strongest on "Almost To Alabama," where he's joined by dobro, imagining the end of the road, and distant lovers. The title track, "Smokin' Drinkin' Gamblin'" is another song only a road-weary rambler could write. It's the apex of country music, where the rhythm section leads in a thudding backbeat, and steel guitar has room to wander all over the beat, while Gerdes moans about "ramblin' my young life away."

Gerdes sings a mean cheatin' song as well. His ribald song "Learned From The Best" and his cover of Johnny Paycheck's "Slide Off Of Your Satin Sheets" bookend the album, the latter a fitting choice—on the surface, Paycheck's lyrics are about an illicit affair, but under the covers it's about class distinction; the sleek countrypolitan image the music industry creates, and the actual people they use to make the music they desire.

While Gerdes' songs about smokin', drinkin' and gamblin' aren't necessarily gospel fare he is for certain "spreading the gospel of country music." His experiences and his angels guard him from writing songs "with no heart or soul." Rarely has classic barroom country been so crossover capable. Give it a listen and you, too, will believe.