Dave Schmidt and The Smokin' J's will be performing an after bears game set.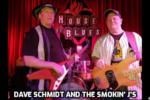 DAVE SCHMIDT AND THE SMOKIN' J'S
Dave Schmidt continues to play Rockin' Music all over Chicago and Midwest, and would love to play a show for you. We have a strong following (see Pic), and have done shows at Taste of Chicago, House of Blues, St. Albert the Great Fest, Smoke Daddy, Reilly's Daughter, Cuzin's Pub, Jesse's Tavern, St. Bede Fest, Milwaukee Ale House, Hog Riding Fools End of the World Party, Broken Oar Biker Sunday, 2Twenty2 Tavern, and many more.