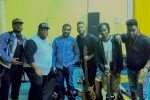 DON ALFORD & THE BLACK MAMBA
After playing on live recordings with a number of artists from 2003 thru 2010 Donald Alford II felt it was time to produce his own record. In May 2010, as owner of Don J Music Productions, Donald released his first project, entitled "Chasing Dreams". This inspirational jazz project resonates the sound and influence of instrumental jazz greats that have touched many lives around the world.
"Chasing Dreams" is the result of years of dreaming and chasing greatness. Donald Alford II received a vast amount of his musical inspiration from his father, Donald L. Alford Sr., an extraordinary songwriter, psalmist and composer. Growing up in Maywood, Illinois while attending his father's church, Donald II learned to value and love great music by listening to some of gospel's most influential musicians and artists.
As a young child, Donald found music to be one of his primary interests. He first began playing the guitar and later took interest in the bass guitar. While continuing to perfect his craft, Donald's amazing skill provided him the opportunity to become a full-time musician, not only in his local church, but in other churches in the Chicagoland area.
Donald Alford II is no ordinary bass guitar player. His soulful expression has gained him notoriety and allowed him to tour with gospel greats, such as, Kirk Franklin, Marvin Sapp, Yolanda Adams, Fred Hammond, BeeBee& CeeCee Winans, THE WINANS, Smokie Norful, Donald Lawrence, J. Moss, Walter Hawkins, De'Andre Patterson and Vashawn Mitchell. He has also performed with artists, such as, Pattie Labelle, Mary Mary, The Clark Sisters, Donnie McClurkin, Tramaine Hawkins, The Winans, Hezekiah Walker and Kim Burrell.
As his musical demand grew, he began writing and producing music with an infusion of various genres' gaining him musical credit as a songwriter, composer and producer for artist's such as Keyshia Cole "Trust" (Different Me), Syleena Johnson "Be Me" (Labor Pains Chapter 4) and being nominated for the 2010 Grammy's for Charlie Wilson "Supa Sexxy." Donald Alford II's awards include being honored at ASCAP's 23rd Annual Rhythm & Soul Music Awards, recognizing the song "TRUST" as one of the top ASCAP songs on the 2009 year-end charts.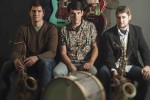 TENOR MADNESS
Tenor Madness mixes funk, blues, latin and world music with jazz.  The results are unique, original compositions and intriguing covers that run the gamut from John Coltrane to The Cure and beyond.  Recently featured as a part of the Chicago Jazz Composers Collective, don't miss this chance to add a little sonic madness to your life.
Casey Fitzpatrick – tenor and soprano sax
Rytas Vygantas – tenor sax
Shawn Salmon – guitar
Paul Musser – bass
Peter Mack – drums
Download their music on iTunes: https://itunes.apple.com/us/album/lovesong/id1142868837?i=1142868849