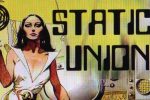 HYDRO STATIC UNION
Hydro Static Union formed on a "whim" when Steve Hahn (Drums) contacted Andrew Spencer (Guitar, Vocals) and Gene Jenke (Bass, Synth pedals) about getting into a studio and working on a few "loose" ideas that Spencer had written down as a map to keep the music somewhat "guided". After two months of improvisational jamming in the studio the band started to play shows weekly across the Chicago land area. With their first release "Space Station Eight", the album captures the first 9 months of their existence. The first album features Andrew Spencer's bluesy vocals over his experimental and multi-tonal guitar work, Steve Hahn's straight forward jazz rock and roll percussion, and Gene Jenke's funk/blues oriented bass playing, along with the thick analog tones of his Moog Taurus Pedals. All of the tracks on the album are recorded as one take performances to try to recapture the stunning live performances that they have become noted for. Hydro Static Union is an original rock power trio a la Chicago that creates an orbital experience on their first album. Maximum volume is recommended for your aural expansion.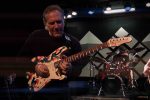 Harry Hmura – Halo Guitarist
If you have ever played the world renowned video game series, HALO, you've heard Harry Hmura's guitar. He initially performed on the first game HALO, "Rock Anthem To Save The World." The incredible Steve Vai played on HALO 2 and Harry then followed up performing on games 3 and 4, ODST and REACH. He helped the Halo music become iconic in the world of video games.
Harry started out touring the U. S. and Canada with Grammy Award Winning blues artist, James Cotton (formerly Muddy Waters harmonica player) as he was turning 21. An experience like no other, Harry learned quickly about life on the road and its expectations. The band traveled 40-44 weeks out of the year, leaving not much down time. There were intense bright spots playing alongside blues and rock legends, Muddy Waters, Buddy Guy, Johnny Winter, Dickey Betts, Elvin Bishop, Jeff Healey among others.
Harry was then asked to join and tour Europe exclusively with Grammy Award Winning blues artist, Sugar Blue, another blues harmonica player who had recorded and toured with the Rolling Stones. The extensive traveling and gigging throughout France, Spain, Belgium, Holland, Switzerland offered new and exciting experiences, giving way to large venues and jazz festivals, Montreux, North Sea-Hague, Madrid, Paris, Middlehiem, Switz.., again bringing incredible bright spots performing on festivals with jazz legends, Dizzy Gillespie, Dexter Gordon, Lionel Hampton, Toots Thielemans and Mickey baker.
As a live performer, Harry toured much of the world, absorbing experiences and inspiration that was all around him. He developed his own band, Countdown in his hometown, Chicago. It was original music, a fusion of blues, progressive rock and improvisatory freeness of jazz. This was the beginning of a new era. He was writing original compositions, and creating his own style. Along with band performances and teaching again, Harry began doing studio sessions recording for local and national radio and TV commercials. He has recorded for a wide range of television shows on network TV on, NBC, CBS, WGN, and cable stations A&E, Discovery, Biography, History, ESPN, VH-1, Weather and performed the National Anthem in Cellular Field for the Chicago White Sox baseball team.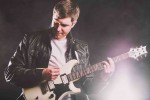 CHRIS BOLINT
Chris Bolint is an instrumental hard rock guitarist from the Chicago Area. Since releasing his debut album, Embers Alive (2015), the 29 year old former Berklee College of Music student has garnered both regional and national praise for it.  His music is both melodic and moving and is considered a guitar player's guitar player.  He is currently being played on 70 + radio stations across the country and is featured in the current issue of Relix Magazine on their coveted CD Sampler.  Chris has also appeared and performed live on Chicago's WGN Radio as well as been  featured by Guitar World Magazine.  Having been consistently performing as a solo act around Chicago over the last year, he recently has assembled a full band to play with, which includes a star studded cast of Chicago area musicians including, Barry Kleiber, Bass (T.D.Clark), Brian McKenna, Rhythm Guitar (T.D. Clark), Billy Cox, Rhythm Guitar (The Fall Four), and Trevor Warren on Drums. Take it from WGN Radio's Nick Digilio who exclaimed "You gotta see this guy!"