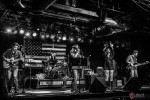 JEFF GIVENS AND THE MUGSHOT SAINTS
I've got boots, guitars and whiskey, that's all I ever need"
– Girl in Carolina, from the album, "Bourbon Cowboy"
Singer/Songwriter Jeff Givens is a road-seasoned troubadour. As a contemporary musical gypsy, Jeff travels the country, meeting folks from every aspect of life and listening to their stories. He lives this life, documenting it all in his songs. Somehow, writing through the haze of self-destruction like his heroes before him, (Kerouac, Burroughs, Lennon, Hank, Townes and others) he has prevailed and come out the other side, battling his demons by writing about them. Born in Tennessee and raised in Chicago, Mr. Givens is a music veteran of over 30 years and has played in many bands, from Chicago to Boston to London. Working with Jay Bennett from Wilco was one of his numerous experiences. Back in 2001, Jeff went all-in; he left his day gig and everything else to fully embrace this musical journey. Tramping around America, like another prince of skid row, he began writing songs that defined his life. Settling back in Chicago, Jeff reconnected with producer, collaborator and fellow hell-raiser, Jason Botka, to finish writing and record these songs. From the easy rooms of Skye Bleu Studios, "Bourbon Cowboy" was born.
In 2014, Jeff gathered his closest brothers in music for his sophomore album, "Midnight in Muscle Shoals", which was tracked on the sacred ground of Fame Studios in Muscle Shoals, AL. A founding member of The Righteous Hillbillies, Kev Wright added his southern rock flair on guitar and vocals, and Jason Botka brought in keys, organ, guitar and harmonica. All left the Shoals sessions feeling like they had "been to the mountain". Jeff knew something special had happened next to that Tennessee River, and it needed to continue. Once home, Johnny Gadeikis added his talents on bass and Luke Smith on drums to round out the Mugshot Saints. This diverse band, with many decades of combined writing and touring experience between them, developed both acoustic and plugged in line-ups and started gigging in some of the best rooms in Chicago; the Metro Chicago and Schubas to name just a couple. The Saints draw from outlaw country, southern rock and rock, blues and folk influences to create their multifaceted sound. Part Allman Brothers part Stones, with some Van Morrison and a dash of Father John Misty; The Mugshot Saints put on a show that will rock you to "holler & swaller" one minute, then with some old school folksy blues, you'll be crying in that same beer the next.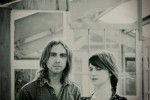 CLAY PARKER AND JODI JAMES
Clay Parker and Jodi James are a folk singer/songwriter duo from Baton Rouge, Louisiana.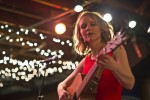 LAURA JOY
Chicago-based singer-songwriter Laura Joy has been known to quell dark, angry bars full of ornery old Irishmen with her brand of acoustic pop. Drawing comparisons that range from Joni Mitchell to Jackson Browne, Laura's percussive finger picking and buoyant voice have graced audiences from as far as the Sun Belt to the streets of Manhattan.
Laura's latest EP, Between Our Words, was released on March 5, 2015. It was produced by fellow Chicagoan, Will Phalen, at Cold Ghost Studios. The album features Jamie Gallagher on drums (Kapsalis Trio, Weepin' Willows, Republic of Lights), David Gallagher on guitar (Belleisle, Weepin' Willows), and Will Phalen on bass (Stereo Addicts, Julie Meckler).
Laura is a frequent performer on the Midwest festival scene. She has played at the Independent Chicago Songwriter Festival, Metamora Folk Festival, Lakeshore Arts Festival, Cain Park Arts Fest, and Ravenswood Remix. In January, 2013, she was awarded as a top finalist in the Broward Folk Club Songwriter Competition in Fort Lauderdale, FL. Laura has also opened for Hammel on Trial, poet Staceyann Chin, Switchback, and Greg Brown.
Perhaps it should be noted that Laura's recording of the ridiculously embarrassing Call Me Maybe parody, "Call Me Ishmael," was featured on Huffington Post in September 2012. The music video has 20,000+ views to date. All because Laura and her friends just wanted to have a little fun. Asking Laura to play the song live is not advised. She will inevitably become flustered and possibly break out in hives.
Laura tours the nation strumming her guitar, petting puppies, and making folks smile. Her tales from the road (that includes pictures of the puppies) along with all other additional sights and sounds may be found at www.laurajoymusic.com