Marty Friedman VIP Soundcheck and Meet & Greet Experience
$50 DOES NOT include ticket
includes:
• Meet and Greet
• Guitar pick pack
• VIP Lanyard
• Photos & chat with Marty
• Autographs
• Marty`s vault CD
–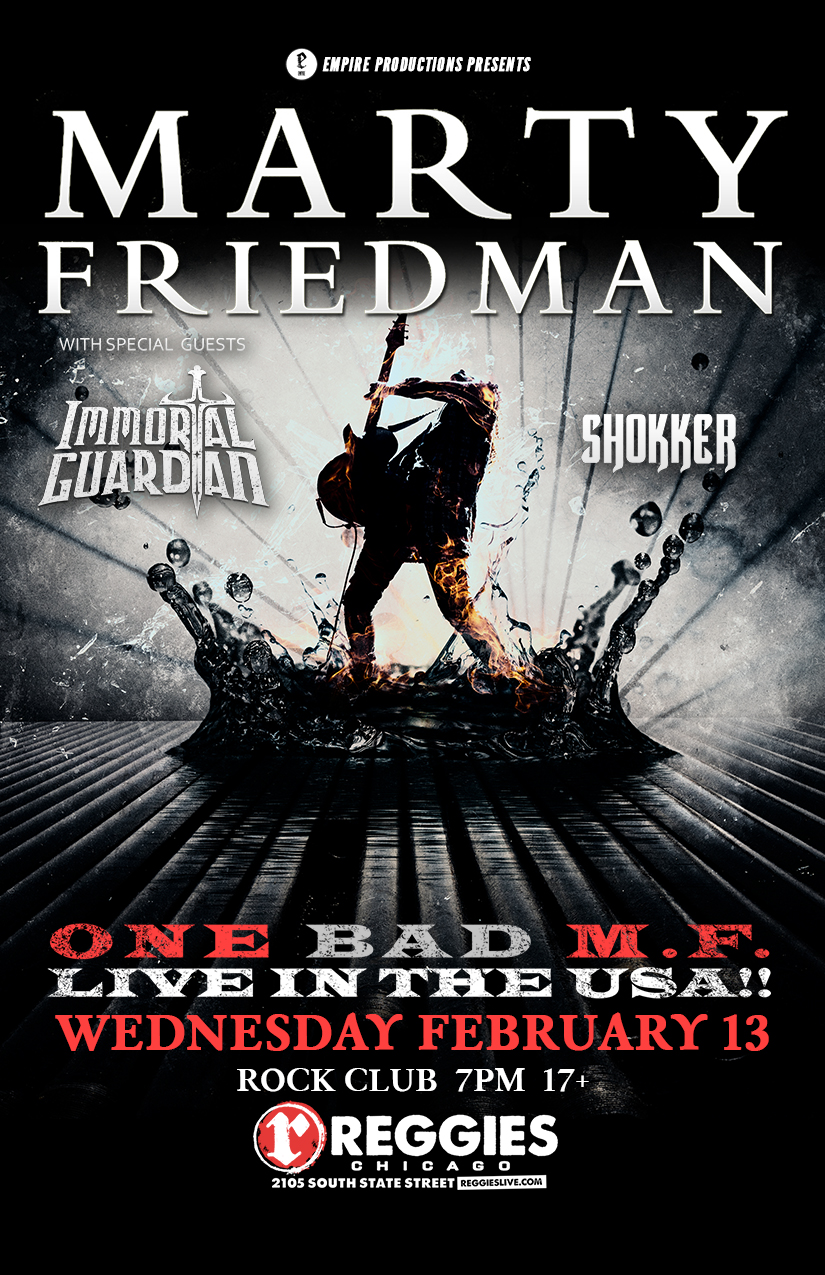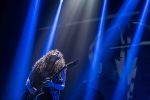 MARTY FRIEDMAN
At the end of the 20th Century, few guitar virtuosi were as respected and revered as MARTY FRIEDMAN. After first rising to prominence alongside fellow six-string whiz Jason Becker in the influential band Cacophony and via his well-received solo debut "Dragon's Kiss," FRIEDMAN joined Megadeth, with whom he soon wrote and recorded the thrash landmark "Rust In Peace." His 10-year tenure with the iconic group — during which they sold more than 10 million albums worldwide and earned multiple Grammy nominations — saw the band's dream lineup reach its greatest heights, and FRIEDMAN's unique sonic contributions became heavy metal DNA that to this day continues to inspire new generations of metal fans.
On paper, it seemed as if FRIEDMAN was living the dream as a well-respected player in a multi-platinum act, but after a decade of cryptic, risky countdowns, the Washington, D.C.-native found himself anxious to explore new challenges. Soon after the release of 1999's "Risk," FRIEDMAN announced his departure from Megadeth and — at least to many American fans — vanished. A fanatical devotee of current Japanese music and pop culture, he rather suddenly moved to Tokyo, where continued to record and release albums that further solidified his guitar hero reputation overseas. Meanwhile, his absence from America seemed to be a catalyst to the legend and influence of his previous catalog growing greater with each passing year.
In Japan, FRIEDMAN became an enigma of sorts: Armed with a fluency in the Japanese language, he left a platinum-selling American band to start from nearly zero to pursue his longtime dream of making his mark on the Japanese domestic music world. That mission was accomplished far beyond his wildest expectations, as FRIEDMAN has since performed at the largest venues in Asia, including three shows at the Tokyo Dome and five at Budokan. In addition, he played on and wrote several Japanese Top 10 hits, including a #1 single in 2011 and a #3 single in 2012. At the same time, FRIEDMAN also became a popular Japanese television personality who not only hosted several programs, but was even featured in several long-running national ad campaigns. He estimates he has made well over 600 network TV appearances in Japan, including three televised sold-out solo performances with the Tokyo Philharmonic Orchestra.
In 2012, Prosthetic Records — a U.S.-based independent label that introduced the world to Lamb of God, Animals As Leaders and All That Remains, among others — approached FRIEDMAN about giving proper American releases to four of his Japanese studio albums and reissuing another that had become unavailable Stateside. Those conversations led to discussions about making a new record that would see FRIEDMAN remind the world outside of Japan of his phenomenal talents and why he's considered the greatest lead guitarist in thrash metal history.
That wasn't enough for FRIEDMAN, though. "I wanted to create a new landmark to which my future music will be compared," he says. "That idea of just going completely balls-out — knowing what the full potential of my music and my playing could possibly be, and actually making it a reality — was what drove me through the whole process."
The result: "Inferno," FRIEDMAN's first album of original material in four years and his first in more than a decade to be released worldwide simultaneously. Recorded in Los Angeles with engineer Chris Rakestraw (Children of Bodom, Danzig) and mixed by Jens Bogren (Opeth, Amon Amarth), the album features what FRIEDMAN told Guitar World is "the most intense writing and playing I can do," with the goal of "go(ing) completely ape-shit, in the most 'Marty' way possible."
"I'm extremely proud of the work I've done with Cacophony and Megadeth, but I was never interested in looking back or stopping there," FRIEDMAN says. "'Inferno' is the album that fans of my work with those two bands have always wanted me to make. I've finally made it, and completely on my own maniacal terms."
Notably, "Inferno" includes several collaborations with players influenced by FRIEDMAN, including Alexi Laiho (Children of Bodom), Revocation guitar whiz David Davidson, the flamenco/metal acoustic duo Rodrigo y Gabriela and acclaimed rocker Danko Jones. In addition, the album features FRIEDMAN's first songwriting collaboration with Jason Becker since the pair played together in Cacophony. Ultimately, though, it's arguably the most compelling chapter yet in FRIEDMAN's improbable international journey — one for which he's excited to have fans in all countries along for the ride.
Upon its release, "Inferno" became FRIEDMAN's first-ever solo record to crack the Billboard Top 200, while readers of Guitar World magazine voted it "best shred album" of 2014. Major features from Rolling Stone and Billboard were also firsts for Marty as the US mainstream picked up on "Inferno" and Marty`s unique story of leaving a multi-platinum band only to find greater success in another country and another culture. His story spawned both a documentary and a biography that are currently in production. To support the release of "Inferno", FRIEDMAN has toured extensively internationally alongside the likes of Arch Enemy, Kreator, Shining and Gus G in addition to performing at major international events such as Loud Park (Japan) and Guitarfest (Chile). Earlier this year, he also embarked a 20-date Brazilian clinic tour, which Rolling Stone Brazil called "the most extensive and ambitious guitar seminar tour in South America's history." This fall, FRIEDMAN will embark on the eagerly anticipated North America tour for "Inferno".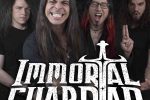 IMMORTAL GUARDIAN
Hailing from the same state as guitar greats Dimebag Darrell and Stevie Ray Vaughn, Immortal Guardian and it's founding member Gabriel Guardian continue to carry the flag of musical innovation and virtuosity for the lone star state. Sponsored by Fender Guitars at the young age of 22, Guardian with his one of a kind ability to shred on guitar and keyboard AT THE SAME TIME has brought to the table a new style of performance seen as novelty by some and pure genius by most. With the addition of Brazilian vocal siren Carlos Zema back in 2012, the band has evolved into a full frontal metal assault of anthemic melodies, technical rhythms, and powerful highflying vocals. Immortal Guardian's latest EP "Revolution Part I" is the independently released follow up to their debut EP "Super Metal: Edition Z" and prequel to the band's first full length album "Revolution Part II". For Revolution Part I, legendary producer/engineer Roy Z was brought into the mix to give the tracks a unique sound that evokes the NWOBHM stylings heard in his high profile clients such as Judas Priest and Iron Maiden's Bruce Dickinson. "Roy completely molded the band's sound in the recordings…" states frontman Carlos Zema, "…It went from water to wine."
Immortal Guardian and their eternal quest to "spread the shred" has landed the band on national and international tours including a headlining Brazilian tour and several dates in Russia. Immortal Guardian has shared the stage with some of the biggest names in metal such as Judas Priest, Dragonforce, Kamelot, Symphony X, Sonata Arctica, Slayer, Metal Church, Soilwork, Steve Vai and others. The band has also made a name for themselves as a DIY guerilla marketing machine via their Immortal Guardian Shred Sled, a mobile metal show on wheels, which has been covered by SPIN.com and other media outlets while out at major music festivals such as South By Southwest, Fun Fun Fun Fest, and River City Rockfest.
Immortal Guardian is currently getting ready to announce their first full-length record being released on M-Theory Audio set for late summer. When asked about the label signing Gabriel Guardian commented, ""I'm very happy to announce IMMORTAL GUARDIAN's signing with M-Theory Audio and the start of our next epic chapter. Marco Barbieri and his team have been accumulating a serious roster, and with a track record like his, we are definitely honored to be joining the family. Looking forward to all the good times ahead!"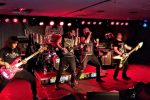 SHOKKER
Hailing from Chicago, Shokker has become one of the most formative and enthralling live acts in recent years, having shared the stage with the likes of Queensryche, Saxon, Y&T, Warrant, Manilla Road, Diamond Rexx, Unleash the Archers, and Striker. With twin guitarists Casey Termont and George Sizos, Jorey Guillermo on bass, Dan Dash on drums, and David Kraus on vocals, the band is a force to be reckoned with.
$50 VIP
Includes reserved Soundcheck and Meet & Greet Experience. Show ticket must be purchased separately.