Saturday 7/6 and Sunday 7/7
Doors open at 4:00 PM
Saturday Lineup: The Chasm (Final Chicago Show), Convulse "World Without God" set, Mortuary "Blackened Images" set, Cruciamentum, Necrovation, Infernal Conjuration.
Sunday Lineup: Dead Congregation, The Ruins Of Beverast, Embrace of Thorns,  Ares Kingdom, Dispirit, Ectovoid.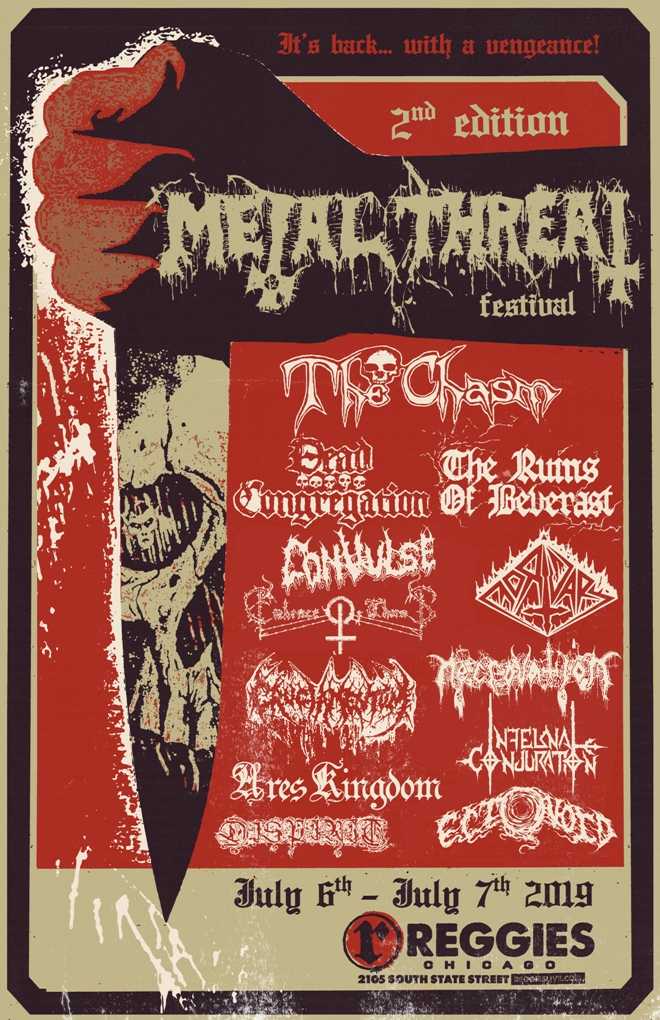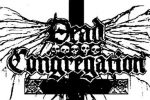 DEAD CONGREGATION
Death Metal Grimness
DISCOGRAPHY:
Purifying Consecrated Ground (miniLP, 2005)
Graves of the Archangels (LP, 2008)
Dead Congregation / Hatespawn (split EP, 2008)
Promulgation of the Fall (LP, 2014)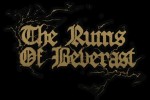 THE RUINS OF BEVERAST
The Ruins of Beverast is a black metal solo project by ex-Nagelfar member Alexander von Meilenwald.
In 2004, the debut album was released. As of 2013, four studio albums and one compilation have been released.
EMBRACE OF THORNS
EMBRACE OF THORNS started it's nihilistic ,blasphemous way towards the grandeur of the final victory in 1998.The raging black/death manifestations are,since then,perpetually expanding and evolving,vomiting fire and curses,continuing the tradition of the incarnated forms of darkness that declared war on the unsuspected feeble zealots almost three decades ago in the temple of black/death vortex.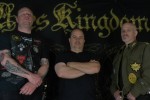 ARES KINGDOM
Thrash/Death metal band from Kansas City, USA. Both the guitarist (Chuck Keller) and the drummer (Mike Miller) were previously members of the legendary black/death metal band ORDER FROM CHAOS.
Formed in 1996 by Chuck and Mike. 
Self-titled demo released by the band and Eternal Darkness Creations in 1997. 
Doug joined as bassist and Alex joined as vocalist in 2000.
'Chaosmongers Alive' 7″ EP recorded for Agonia Records in 2003.
Signed exclusive deal with NWN! Productions in 2005.
'Firestorm Redemption' 12″ maxi single released in January 2006.
'Return to Dust' LP/CD/PD released in May 2006.
Simultaneously with the release of 'Return to Dust,' Doug moved to the rhythm guitar position and Alex took up bass duties in addition to vocals.
'Failsafe' 12″ maxi single released in late 2007.
'Firestorms and Chaos' CD of B-sides and non-LP material released in May 2008.
'Incendiary' LP/CD/PD released in January 2010.
'Veneration' LP/CD/PD released in 2013.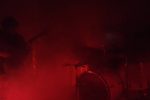 DISPIRIT
Begun as a purely experimental improvisational outlet in 2000 after the demise of Weakling, and existing concurrently with The Gault and Asunder, John Gossard began creating music with drummer Peter Blair, born out the ashes of Weakling, but constantly morphing through other realms of dark music. After nearly a decade of fermentation, a few unstable lineups, and countless worldly distractions, 2009 saw a stable lineup form with Todd Meister and Nikhil Sarma entering the picture. With a full lineup, many the skeletons created from the old recorded improvisations became the basis for fully composed material. In 2010 the rehearsal/demo tape "Rehearsal at Oboroten" was released and the band began making occasional live appearances. In late 2011 N.S. exited the group due to conflicting prior commitments. Dispirit played a handful of shows after N.S. departure thanks to the help Sean McGrath (Impaled, Ghoul) to fulfill our prior commitments. In mid 2012 the band recruited Ryan Jencks (Deathroes, Sixes, Crash Worship) on second guitar and in late 2012 recorded a second demo, "111112". In mid 2013 P.B. retired for the band, and Jason Bursesse (Cyanic, Black Fucking Cancer) joined them as session drums for select shows. In 2014 the band recruited Trevor Deschryver (Lycus, ex-Deafheaven (yeah quit your whining already!)) on drums, but for how long?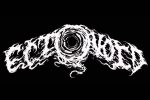 ECTOVOID
Band was formed in summer of 2010. First demo, "Breathing Blackness," recorded in January 2011 and self-released by the band in March. Debut album, "Fractured In the Timeless Abyss," released on CD by Hellthrasher Productions in May 2012. Vinyl version released by Blood Harvest Records in October 2012. Live release "Rituals of Hallucination" recorded in Atlanta, GA in August of 2013 and issued as a limited cassette by Ritual Ugliness Productions in December of that year. Second full-length "Dark Abstraction" released on CD by Hellthrasher Productions in July 2015. The "4 Doors to Death" split featuring two Ectovoid songs followed on CD in January 2016.
$65 Two Day Pass
for 7.6 +7.7 admission