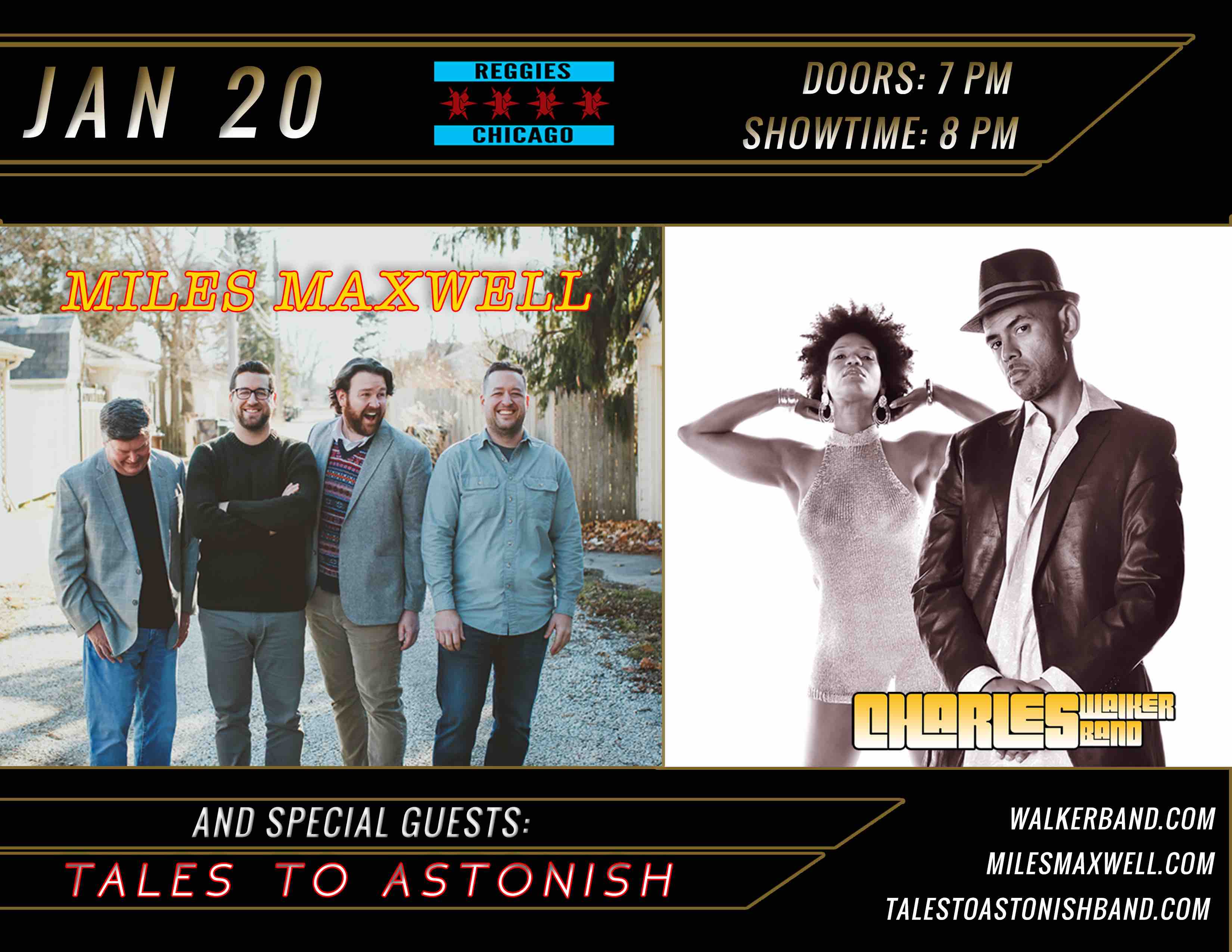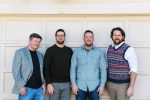 MILES MAXWELL
Miles Maxwell started in February 2017 after lead singer and songwriter Miles Baltrusaitis decided he wasn't quite finished sharing his emotional and darkly humorous songs with the world.
Inspired by a thirty-something suburban life rattled out of cruise control, he wrote a dozen new songs and enlisted the help of old friends Matt and Dan Stankiewicz to bring Miles Maxwell to life. With their respective vintage keys and drums, the boys began to play the Chicago club scene and eventually hit the studio to tell their tale.
In late 2017, bassist Steve Kingwell joined the fold to round out the lineup and prepare for the album release and the summer 2018 live circuit.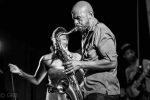 CHARLES WALKER BAND
"Tight, classy kick ass…Deep grooving, high energy music…Musi
c to
season your soul with."
-Maximum Ink"…the Charles Walker Band, a quintet whose chops are strong,
whose command of the genre is certifiabl
e, and who generate excitement
 at
every turn."
-Jeff Tamarkin, All Music Guide
Deliciously Stanky, Dynamically Funky, Recklessly Hopeful. Grounded in soul, the Charles Walker Band has been compared to Prince, Bruno Mars, The Brand New Heavys, James Brown and Sharon Jones. The Milwaukee based band has refined their sound into Neo-Funk, a fusion of funk and soul infused rhythms with pop melodies. The seven piece band rehearses relentlessly in Charles' basement, amidst couches and low ceilings, the trombonist having to stoop the entire time, continually evolving their performance. These questions are continually posed: How can we make this sound tighter? How can we arrange this to make it more stimulating? How can we make this song look visually different? They combine this quest for musical excellence with deep gospel influences and positive lyrical messages. The Charles Walker Band is Deliciously Stanky, Dynamically Funky, Recklessly Hopeful.
Charles grew up literally in the middle of nowhere. Surroundedby dairy farms and apple orchards, the closest towns miles away, he turned to music in sixth grade. After being presented with various instruments, he desperately wanted to play trombone. However, his music teacher said, despite his protests, he had the perfect mouth for saxophone, and his career was started. Walker started the Charles Walker Band 14 years ago, initially as a blues band but when Porsche Carmon, a Columbus, OH native and female vocalist in the band, joined, the sound began to evolve towards soul and funk. Eventually, Charles and Porsche became a couple, and together laugh, cry, argue and plan shows to mesmerize in an age when performers compete against cell phones and tablets. As a testament to their ability to create an engaging show, one fan said after their performance at Summerfest in Milwaukee, WI, "I had to go to the bathroom for two hours but held it because I didn't want to miss a minute!"
In the past year, the instrumentation of the band has grown from a five piece band to seven piece. Brett Westfahl blows the trumpet, Steven Trenier wails on trombone, Aaron Roman lays rhythms on guitar, Brian Kennedy backs the band on bass, while Victor Campbell nails down drums.
As a testament to their live magic, the group has opened for national acts including Earth Wind & Fire, Aaron Neville, Robert Cray, BB King, Richard Marx, Eddie Shaw (Howlin Wolf's Sax Player), Booker T, Cameo and Bernard Allison. The ensemble has been featured on Fox News, NBC "Live in the Morning," nationally syndicated "Discover Wisconsin," and was the featured artist on the Blues Revue (2010) and Soul Bag (2007) sampler CDs and has been nominated four years in a row for best soul/r&b act in Wisconsin by WAMI, winning the award in 2013.
Counting Ghetto Prophet, the band has released eight albums, each album an evolution in sound while retaining their roots in positivity. Walker says of Ghetto Prophet, released on Ehlona Records: "One in a Million, where the album's title comes from, tells the story of an impoverished child becoming something great. This child ignores his circumstance because he has a strong enough vision to see something better. He keeps holding onto the belief that it's possible. That he could be that one in a million. Ultimately, he represents the greatness in all of us."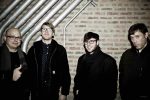 TALES TO ASTONISH
Tales to Astonish-Chicago Jazz/Rock from multiple dimensions simultaneously. Elements of rock, jazz, pop, funk, hip hop, experimental. Sci fi instrumental groove music.