MoonRunners Music Festival 10
May 7th + 8th, 2022
21+ / 11am doors / $90 for Two Day Weekend Pass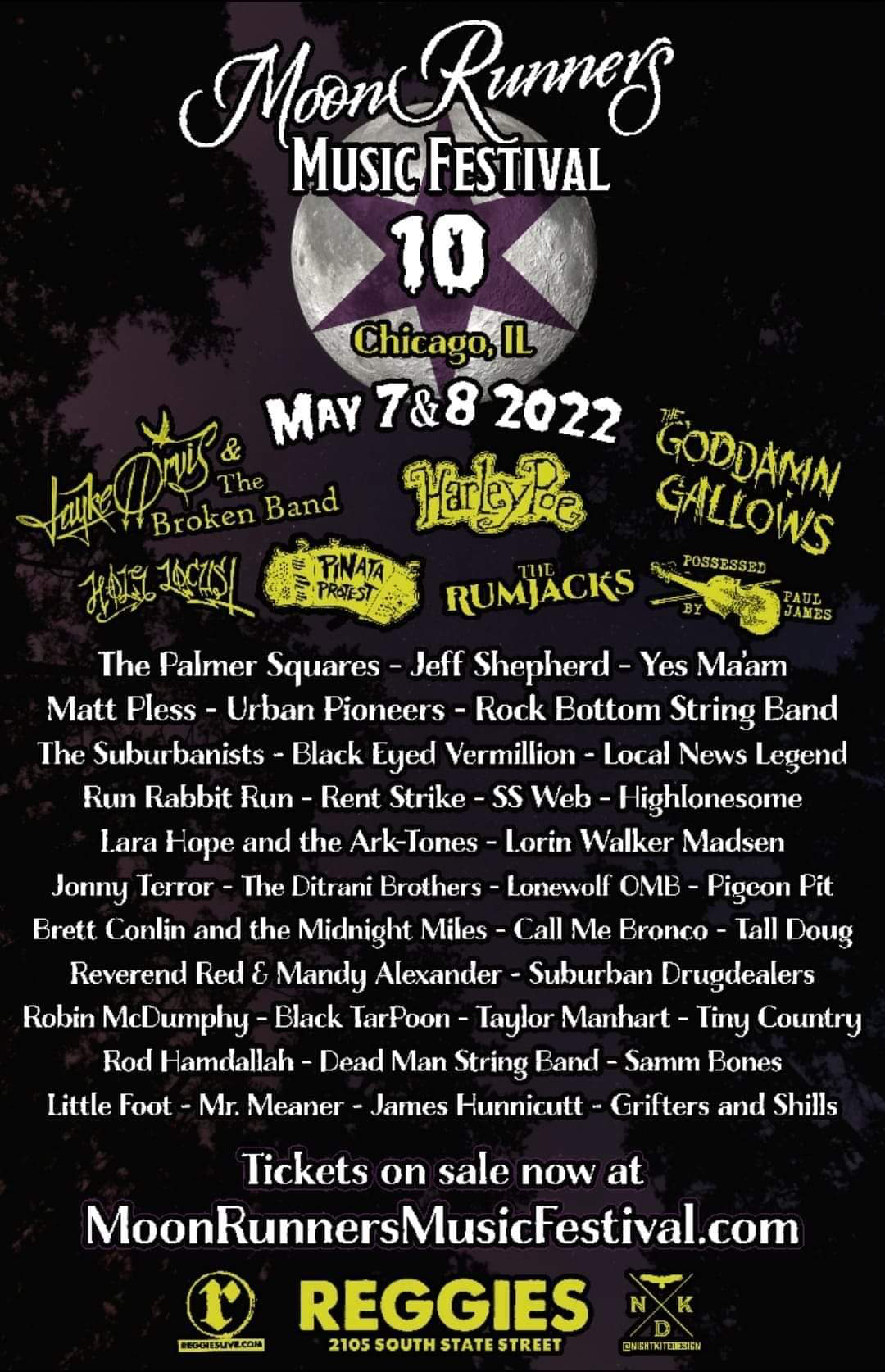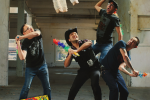 PIÑATA PROTEST
Piñata Protest is an accordion fronted punk rock band from Texas. The San Antonio band's fusion of Tex-Mex and punk is a fresh sound the LA Weekly hails as "festively energetic," and NPR alt Latino deems "brilliant" and "mind blowing." It's Selena meets Slayer. An intoxicating border mash up of The Ramones and Ramon Ayala.
The group rapidly rose from being "one of the most original forces on the local music scene" (San Antonio Current) to cutting a feisty debut album, Plethora, to launching onto the road playing with such acts as Girl in a Coma, Reverend Horton Heat, The Hickoids, Brujeria, Lower Class Brats, Voodoo Glow Skulls and Mustard Plug plus appearances at such festivals as South By Southwest, Chicago's Latino Fest and the American Sabor Music Festival and Tejano Music Awards Fan Fair in San Antonio.
On the band's new EP, El Valiente, a joint release by Cosmica Records and Saustex Media, the band's irreverently self-described "mojado punk" develops and explodes into a strong and cohesive mix of punk rock aggression, cheeky riffs on Mexican standards, and original songs reflecting their lives, influences, and desire for a mosh pit, Tejano style. Noted Grammy-nominated producer Chris "Frenchie" Smith (The Toadies, And You Will Know Us By the Trail of Dead, Built to Spill), produced the new album and captures the band's sound that critics praise as "fiery punk rock" that "use[s] the traditional squeeze box in unexpected ways."
"This bilingual accordion-fronted quartet is committed to the notion that old-school punk rock and old-school Latin border music can be fused into something modern. And loud," notes The New York Times. As singer/accordionist Alvaro Del Norte stresses, it's simply an organic development out of the differing sounds that the band members all heard as they grew up and came of age. And from his belief that music should first and foremost provide a fun release from the rigors of everyday life. Along with del Norte, Piñata Protest is comprised of guitarist Marcus Cazares and his bassist twin brother Matt and drummer JJ Martinez.
Songs like "Vato Perron," "Tomorrow, Today" and the title track, "El Valiente," perfectly capture the band's signature blend of speeded up Tex Mex, buzzing guitars, and way witty Spanglish lyrics. "Life On The Border" explores the insider/outsider Mexican Americans experience in a bright accordion-led punk rock drinking song. And in the band's cover of the classic Mexican ranchera standard "Volver, Volver," Piñata playfully sticks to the songs lyrical traditions while adding a punk rock element making the classic tune equally at home in a San Antonio West Side beer joint or in a So Cal punk rock club. The band closes the set with a pummeling burst of wham, bam, thank you ma'am fury on "Que Pedo" which shifts back and forth from punk to speed metal and back again in the course of its blistering 45 second running time.
"It captures a moment of coming together as a band and breaking out of our shell," says Del Norte, of their road seasoned sound that El Valiente takes to a whole new level. As the Phoenix New Times observes, "When you think about the dichotomy of growing up Chicano, the fusion actually makes perfect sense."
Del Norte readily admits, for much of his life he rejected the traditional Mexican-American music he heard at home growing up in San Antonio. "I hated Tejano and conjunto and anything in Spanish. Didn't think it was cool," he explains.
Instead he dug R&B and pop/Top 40 music until he heard in bands like The Ramones, The Clash and Black Flag a sound, attitude and messages that spoke to his feelings, experiences and soul. He learned to play bass and did time in a punk rock and an emo band. After High School, Del Norte had a change of heart regarding the Mexican music he grew up with. Born in Nuevo Laredo into a family that immigrated to Texas undocumented (and later became naturalized), Alvaro soon realized Tejano, norteño and conjunto spoke to a part of who he was, as well as speaking to larger cultural and human issues.
At Palo Alto Community College in San Antonio, he studied accordion with master player Juan Tejeda, a respected folklorist and founder of San Antonio's Tejano Conjunto Festival. It led Del Norte to start a band that combined the punk style he loved with his Tejano/norteño musical roots he had grown to appreciate. "I was sick and tired of bands all sounding the same. I thought long and hard: What can I do to do something different, something fun?" he explains.
He started recruiting musicians at Snaps Skate Shop, a skateboard store in a funky old warehouse with a half-pipe inside that was a San Antonio punk scene gathering spot. It's also where the first version of Piñata Protest debuted, although their inaugural show was almost derailed when police raided the joint. Undaunted, the band set up outside and played unplugged.
"I remember just having a puzzled look when Alvaro first told me about his idea of fusing the accordion with punk music, but he had a few raw recordings that honestly blew my mind," says Martinez, a human tattoo collection who honed his taut drum chops playing heavy metal, indie-punk, pop-punk and hardcore. Too busy in other bands to take up Del Norte's invitation to help start the group, he later saw a show "and fell in love and totally regretted not joining." He eagerly jumped onto the Piñata Protest drum stool a little later when the invite came again.
The brothers Cazares also grew up with the same cross-cultural musical mix as Del Norte and Martinez plus similarly playing in punk, emo and hardcore bands. Bassist Marcus, an automotive and lowrider culture buff, was the first to sign on. Guitarist Matt, a professional tobacconist who collects rare cigars and pipes, was "already a fan" when he was recruited as a last-minute fill-in and quickly earned his full member stripes.
Crisscrossing the country on tour, the band honed their sound to a razor's edge sharpness and high wattage energy and racked up media praise in their wake for the band's rollicking powerhouse live performances: "This band is manic, Hispanic, accordion driven, and loaded with punk rock attitude. Alvaro Del Norte squeezes and plies the keys of his accordion with frenzied energy, [and] he's an amazing performer. He leaps about, spins around the stage and even does windmills on his accordion a la Pete Townshend. He exudes charisma from every pore" (East Portland Blog). "They are a band that is in your face, and living proof that musical cultures can combine to create something powerful. And live they are impossible to resist. If you're not dancing, then you can't be in that room, because the energy is just that intense" (Salt Lake City's Rebel Gurrl). "From the moment Piñata Protest took the stage, [the club] was at full throttle. Sweat-soaked shenanigans and musical insanity ensued …and the women went wild!" (San Francisco's The Owl). "A damn good show" (Phoenix New Times).
"We've really grown together musically," Del Norte observes. "We're friends and hang out with one another outside the band. We've gotten really comfortable with each other. We can almost predict what someone is going to play. It's like finishing each other's sentences. Everybody has a lot of enthusiasm and is on the same page. We're a family now." Playing both the rock club tour circuit and Mexican American celebrations in and around their hometown, Piñata Protest have been pleased to see that their appeal ranges from sweet old abuelas to little kids as well as the toughest Chicano vatos to indie rock'n'rollers.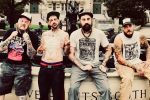 THE GODDAMN GALLOWS
The Goddamn Gallows formed in 2004 by founding members and Lansing/Detroit natives Mikey Classic on guitar and vocals, Fishgutzzz on upright bass, and Amanda Kill on drums -replaced by current drummer Uriah Baker (aka; "Baby Genius") in 2006. The trio started out migrating around the West for a time, holing up in Hollywood squats and squalid apartments, before releasing several albums: The Gallows EP (2004), Life of Sin (2005), and Gutterbilly Blues (2007), and finally hitting the road nearly full-time to establish their presence in the psychobilly-country scene while honing their self-described "twanged-out punk rock gutterbilly". In 2009 the addition of Avery, a fire-breathing, accordion and washboard player, as well as Jayke Orvis (formerly of the .357 String Band) on mandolin and banjo, prompted The Goddamn Gallows to explore many new directions with their songwriting and in their live performances. As evidenced on their most recent 2009 album, Ghost of The Rails, and as witnessed by their spectacular and tireless live shows, The Goddamn Gallows began to forge a path founded on their very own brand of contagious primeval abandon: an unpretentious and from-the-gut carnivalesque smorgasbord of parts old time revival, circus sideshow, and good old-fashioned rock and roll. The result falls dead center into a head on collision between something like a Western honky-tonk impromptu parking lot rodeo, and Suburbia (the 1983 Penelope Spheeris cult classic film, not the location).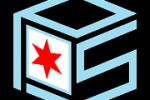 THE PALMER SQUARES
Ac and Term have shared a number of things over the years, from a plate of nachos one time, to an unhealthy infatuation with polysyllabic rhyme schemes, to their very first mushroom trip. However, these two sissy boys most recently enjoy sharing various stages throughout the Chicagoland area and posting make out videos on YouTube. They can be considered: in the moment, on the edge, over the top, but under the radar. so turn on, tune in, and drop dead cuntface.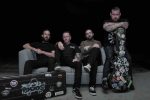 THE RUMJACKS
(from Australia)
We are a punk rock / Celtic folk band from Sydney, Australia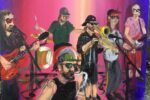 MR. MEANER
Mr. Meaner is a 7 piece dust band from the Midwest which consists of a blend of varied musicians from all over the states; incorporating influences of surf, swing, outlaw and punk.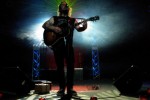 JAMES HUNNICUTT
My name's James Hunnicutt & I'm a singer/songwriter/musician/producer who lives in Washington State, USA. I primarily perform as a solo artist these days though I've been known to sit in with quite a few bands over the years. I've been a member of over 30 different bands since starting my 1st back in 1987 & this list includes- James Hunnicutt and The Revolvers, Wayne "The Train" Hancock, The Swinos, Misery Seed, The Hatchet Wounds, Neutralboy, Woodrot, The David Koresh Choir, The Gulags, Maximum Asshole (Artimus Maximus), Devilock, Gonowheres, The Whorables & many more.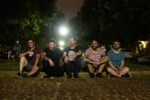 BRETT CONLIN & THE MIDNIGHT MILES
A roots-punk quartet based in Bloomington/Normal, IL. New EP out now everywhere!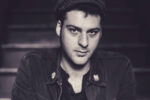 ROD HAMDALLAH
HAILING FROM ATLANTA, GA, GARAGE ROCKER ROD HAMDALLAH HAS BEEN TEARING UP THE SOUTHEAST MUSIC SCENE SINCE BEFORE HE WAS OLD ENOUGH TO HAVE HIS FIRST DRINK.
BY AGE 16, ROD WAS SOAKING UP GARAGE ROCK AND SOUTHERN DELTA BLUES AND MASTERING IT TECHNICALLY AT A RELENTLESS PACE.
SUBSEQUENTLY INFLUENCED BY EARLY SOUL AS WELL, HAMDALLAH TOOK HIS MUSIC TO YET ANOTHER LEVEL; AND BY AGE 17, HE WAS SHARING THE STAGE WITH INFLUENCES SUCH AS BLUES PRODIGY SEAN COSTELLO, JACK WHITEMENTOR DEXTER ROMWEBER AND MANY, MANY MORE.
THE ELEMENTS IN ROD'S ORIGINAL MUSICAL ARE ROOTED IN BLUES, GARAGE AND EARLY SOUL.  DARK STORYTELLING AND AMERICAN ROOTS MUSIC PLAY A BIG PART IN HIS SONGWRITING AS WELL.  HE CREATES A SOUND THAT CAN BE LIKENED TO SUCH ARTISTS AS FLAT DUO JETS, CAPTAIN BEEFHEART AND THE BLACK KEYS.
THINK ABOUT IT, HAMDALLAH'S DEBUT EP, WAS RELEASED MAY 1ST, 2014.  IT IS A WAILING GARAGE-ROCK STOMPER WITH BLUESY, LO-FI VOCALS ALL THROUGHOUT ITS FIVE TRACKS.  THE SINGLE "THINK ABOUT IT" WILL KEEP YOUR HEAD BOBBING WITH ITS DIRTY GUITAR AND PUNK ROCK ATTITUDE, ALL WHILE HIS SOULFUL VOCALS THREAD THROUGHOUT.
"CARRY YOU HOME" FEATURES COLONEL J.D. WILKES, OF THE LEGENDARY SHACK SHAKERS, A BAND ROD HAS TOURED WITH WORLDWIDE. WILKES ADDS BOTH BANJO AND AN ALMOST-DREAMY, WURLITZER PIANO TO THIS BLUESY WESTERN TUNE.
CRAFTING A SOUND FROM PERSONAL EXPERIENCE, DYNAMIC VARIATION AND MELODIC VOCALS, ROD HAMDALLAH STANDS POISED TO TAKE THIS SHOW ON THE ROAD… AND AROUND THE WORLD!  BECAUSE, FOR ROD, HUNGER IS HIS MAIN HALLMARK. IT IS AN UNDENIABLE QUALITY IN HIS SOUL.
REVEREND RED AND MANDY ALEXANDER