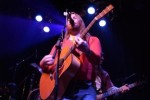 MR. BLOTTO
Mr. Blotto was born in Chicago as an off-night vehicle for musicians who loved each others playing but were in different bands at the time. The only rule was that they would only play what they loved. That philosophy continues today and has led Mr. Blotto into unique musical situations.

Mr. Blotto takes the Jam band asthetic into areas unfamiliar to the standard Jam Scene. They have been known to cover entire albums by Led Zeppelin and the Who as well as perform entire shows of Country and Reggae. Artists as diverse as the Grateful Dead, the Flaming Lips, Willie Nelson and The Velvet Underground have seen their material interpreted by Mr. Blotto in the 2000+ shows the band has performed in the last 15 years, yet covers only pepper the bands hefty catalog of original material stemming from five studio albums and other unreleased crowd favorites.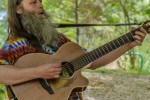 MACE HATHAWAY
Mace Hathaway is a singer/songwriter from the heart of the mid west, & he can really tell a story. Driven by his soulful voice, the energy in his delivery and clever lyrics have been known to consume the listener. Mace is What some might call a prolific writer, with over 200 songs to his credit.
Giving accolades to some of his major influences, Robert Hunter,Peter Rowan, Paul Simon & Joni Mitchell, he strides to turn each song into a new journey for the listener. Mace is also a member of the band Dirty River Ramblers, an up and coming Jamgrass band from Omaha Ne. Please also visit their band page  -The Dirty River Ramblers- 
Dirty River Ramblers | Bluegrass from Omaha, NE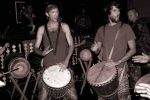 LOW END THEORY DRUM ENSEMBLE
The Low End Theory Drum Ensemble draws from the music and rhythms of West Africa to create grooves and beats that get a body moving. We play djembes, dundunbas
, sangbans, kenkenis and other percussion but you can always expect a few surprises. With a focus on the bass, Low End Theory can be expected to bring the party.