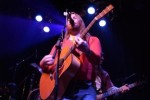 MR. BLOTTO
Mr. Blotto was born in Chicago as an off-night vehicle for musicians who loved each others playing but were in different bands at the time. The only rule was that they would only play what they loved. That philosophy continues today and has led Mr. Blotto into unique musical situations.

Mr. Blotto takes the Jam band asthetic into areas unfamiliar to the standard Jam Scene. They have been known to cover entire albums by Led Zeppelin and the Who as well as perform entire shows of Country and Reggae. Artists as diverse as the Grateful Dead, the Flaming Lips, Willie Nelson and The Velvet Underground have seen their material interpreted by Mr. Blotto in the 2000+ shows the band has performed in the last 15 years, yet covers only pepper the bands hefty catalog of original material stemming from five studio albums and other unreleased crowd favorites.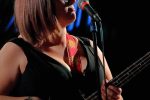 AMANDA FISH
Amanda Fish is an Indie Blues artist from Kansas City who scratched her name into the scene as a solo artist before teaming up with slide guitarist and Stone Cutters Union frontman Sean McDonnell to form the Amanda Fish Band in May 2014. This Roots Rock and Soul quintet features dual slide and rock guitars and Amanda's signature 'from-the-gut' vocals locked into a sturdy groove.
In 2015, she released her first LP, "Down In The Dirt", on VizzTone Label Group, for which she was awarded the 2016 "Sean Costello Rising Star" Blues Blast Music Award.
Amanda and her band set Beale Street on fire in the 2017 International Blues Challenge Semi Finals, playing new material slated for her next release.