Starting on January 3, 2022, in accordance with the Chicago Vaccine Requirement – Anyone entering the concert will be required to show proof of full vaccination. Final dose of vaccination must be received no less than 14 days prior to the event. We will accept a hard copy of your vaccination card, a printed photocopy or a digital image on your phone, and must match your Government-issued ID. Masks are currently required to be worn by everyone inside the venue in accordance with current City of Chicago guidelines.
ODDYSSEYS
"Boston born Chicago based based post-punk collective Oddysseys are making a big splash with the release of their brand new album titled "Odd Behavior".
The four-piece consists of Christian Treon, Paul DiRico, Josh Corbin, and Mark Pangilinan. The group's sound is a dark, bleak mixture that is intriguing and mystifying when you first take a listen, as the band's uses a combination of creative musical measures to keep the audience's attention span at bay here.
They seem to be making a deep impact when it comes to wowing the listeners. While the band's sound doesn't have flashy melodies or catchy hooks, the band's creative resolve will definitely come into play when creating your impression on this local group, which is blossoming into something very special. An intriguing group that is well worth of taking a deeper listen to."
​– Music Box Pete
​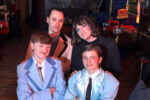 NOISELAND
james: lead guitar, communist rhetoric
max: guitar, vocals, hand-wringing
mitch: bass, Guerilla PR