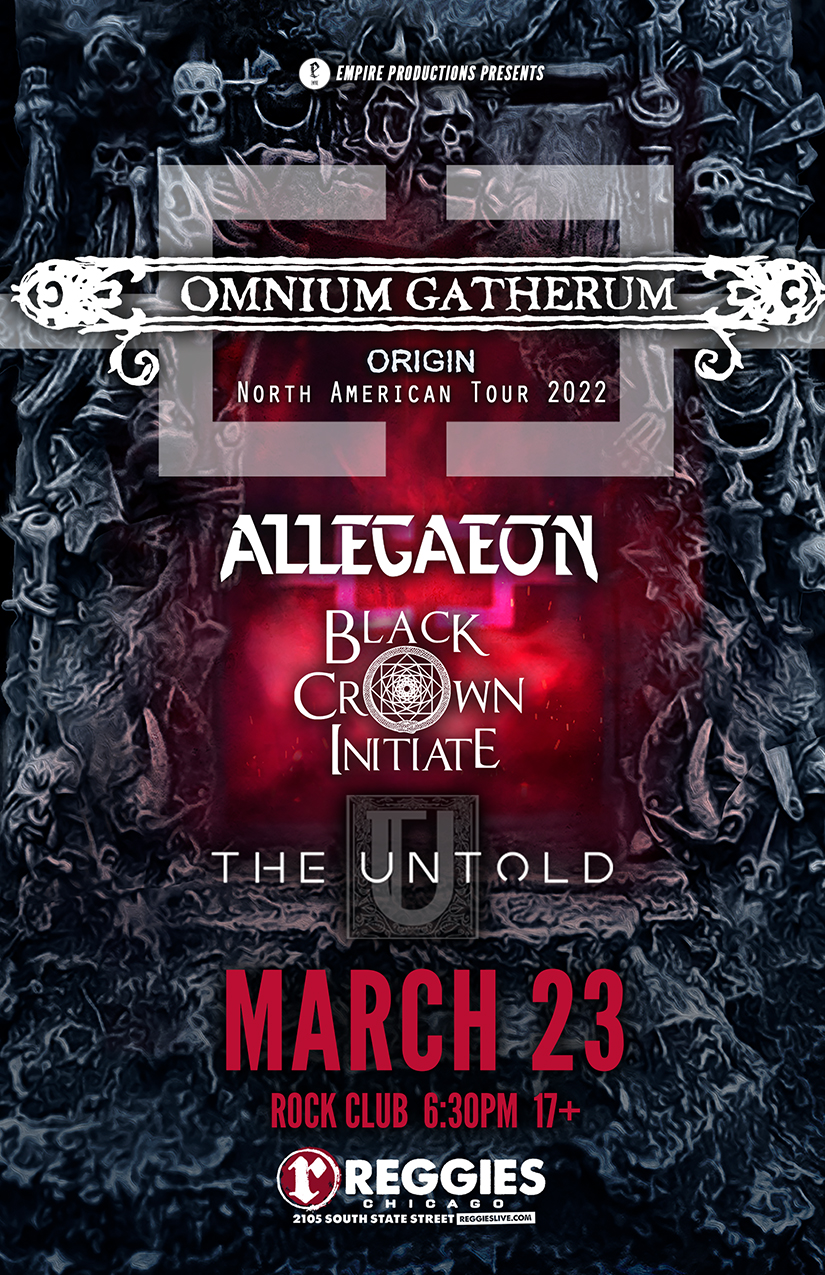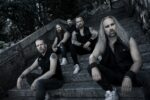 OMNIUM GATHERUM
Some bands seem to harness the power of magic from the very start. Omnium Gatherum are one such band, but they are only just starting to recognise the enormity of their powers. It's time to experience The Burning Cold.
Finland's Omnium Gatherum formed in 1996 and emerged from a vibrant European metal scene with a series of acclaimed demos. With a sound that blended the raging brutality of Scandinavian death metal with a rich sense of melody and harmony, the band's debut album Spirits & August Light was released in 2003 via UK imprint Rage Of Achilles, and received ecstatic reviews in numerous metal mags across Europe. The Finns ploughed forward for the next few years, releasing a series of critically lauded albums that further explored guitarist Markus Vanhala's unique sonic and compositional world. From 2004's bullish and streamlined Years In Waste to 2013's wildly atmospheric Beyond, Omnium Gatherum were gaining momentum and legions of new fans with each creative step and each successive campaign of intense live performances. Despite enduring the usual highs, lows and line-up changes, this band were plainly built for the long haul.
"People have come and gone over the years and I'm the only 'original gangsta', but the main idea's still the same," explains guitarist and chief songwriter Markus Vanhala. "We have always been about the marriage of lot of melody and really aggressive vocals. We never sound too cheesy or too aggressive. It's a chaotic balance between love and hate, melody and aggression, where those AOR melodies meet the growling cookie monster!"
In 2015, Omnium Gatherum released seventh album Grey Heavens via Lifeforce Records: both their most successful record to date and the most daring expansion of the OG sound to date. Since its release, the album has taken Vanhala and his band mates – Joonas Koto (guitars), Jukka Pelkonen (vocals), Erkki Silvennoinen (bass) and Aapo Koivisto (keyboards) – around the world, with shows in Europe, Asia and North America and stages shared with Amon Amarth, Dark Tranquillity and many more. With their profile higher than ever, they have since signed a worldwide deal with Century Media Records and have spent the last year working on a brand new studio album. The first OG record to feature new drummer Tuomo Latvala, who replaces long-time member Jarmo Pikka, the Finns' greatest masterpiece has been completed and Vanhala is thrilled with the results.
"Omnium Gatherum is my first love and greatest passion," the guitarist states. "On this album I wanted to concentrate more on guitar-driven music, and there's a lot of guitar melodies and more guitar solos by both guitarists! We also concentrated a lot on producing tight, succinct songs. There aren't many longer songs on 'The Burning Cold'. I could say that my songwriting has raised to a new level with this album, honestly! The album goes to both extremes: it's more melodic but also heavier than anything we've done before… but everyone says that, right? Ha ha!"
Recorded with esteemed studio guru Teemu Alto, with whom Omnium Gatherum have recorded every album since Years In Waste, The Burning Cold fulfils Vanhala's promise of more heaviness and more melody, but it's the maturity in the guitarist's songwriting and the sheer emotional weight behind these vital, inventive metal anthems that make this much more than just another record in a sturdy catalogue. Thanks to the immaculate power of Alto's production and the legendary Dan Swanö's mixing skills, this is the biggest and most infectious album the band have ever made. From the fiery eruption of the opening The Burning and the sumptuous depths and drama of Refining Fire to the heroic death metal majesty of Over The Battlefield and the heart-rending chills and thrills of the closing Cold, this is a tour-de-force for one of the modern era's most consistently fascinating ensembles. It's also an album with conceptual depths to be explored, as Vanhala explains.
"There are two major lyrical concepts on the new album: firstly, it touches on the great human tragedies and misfortunes that are all around us. Tragedies such as war and the engulfing darkness that follows; fortunes which are tangled in experiences that we all share despite this seemingly burning world. Secondly, the lyrics speak loudly about the human emotional condition. How do we love? Why do we hate? Why are some things easier to leave behind than others? Why does death terrify us, and if it does why do people act like it does not exist?"
Metal has never been afraid to ask big questions, but rarely has a band invested such sincerity and thoughtful power into their music. The Burning Cold dares to be all things to all people: it's a dark, heavy and vivid adventure through the trouble human psyche and the turbulent world around us, but it's also an exhilarating and big-hearted celebration of the rejuvenative power of gloriously bombastic heavy music.
"It's a damn catchy album full of fresh melodic metal, bred with aggression and beauty," Vanhala avows. "There's a lot of energy, there's a lot of hope, there's a lot of gloominess, from us old geezers of metal to the metal fans! It's an honest metal album and there's no bullshit on top. No symphony orchestras, no programmed computer shit, just a pure metal band of six guys doing it for real."
With the wind of victory very much in their sails, Omnium Gatherum will release The Burning Cold on August 31 through Century Media Records, before embarking on a relentless touring schedule that promises to take them around the world several times over the next two years. 100% dedicated to spreading the word to anyone and everyone, Vanhala's first love and greatest passion show no signs of burning out or fading away.
"We're ambitious and hungry as hell, and feels we've just started this!" he concludes. "There's a hell of a lot more still to achieve, but we still do this because we're having so much fun as group, writing and playing this music. The priority is to keep the bar high for the music. It's not about success. We always try to beat the last album and we've definitely succeeded this time. Don't worry, we're not going away yet, not for a looooong time!"
-Dom Lawson, June 2018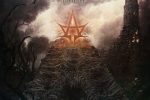 ALLEGAEON
Allegaeon (pronounced: uh-lee-juhn) was formed in 2008 by guitar player Ryan Glisan. Soon thereafter joined the classically trained guitarist Greg Burgess, vocalist Ezra Haynes and bassist Corey Archuleta to round out and form what people have come to know now as the Colorado Kings of Melodic Metal. In 2008, Allegaeon released their 4 song, self-titled EP and quickly gained attention from the local, national and international metal fans as well as Metal Blade records. In 2009, barely a year after releasing their first EP to the world, Allegaeon agreed to a deal with Metal Blade Records and thus began their relationship and Allegaeon's entry into the ever expanding metal community.
2010 brought Allegaeon's debut album Fragments of Form and Function (FOFAF). FOFAF was recorded in Denver at Flatline Audio with Dave Otero (Cephalic Carnage, Cattle Decapitation, Vale of Pnath) and was released on July 20th, 2010. Between 2010-2011, Allegaeon had a slew of singles that played in such heavy rotation on the Sirius Liquid Metal Station that they cracked the stations top 20 most played bands list. Metalstorm.net lists Allegaeon's debut album, FOFAF, as the #4 rated death metal album of all time (by the websites rating standards). FOFAF was critically acclaimed by many and catapulted the band out of obscurity and into the ranks of metals elite new bands.
In January 2012, the band traveled to Southern California and entered Lambesis Studios with Daniel Castleman (As I Lay Dying, Impending Doom, Carnifex, Winds of Plague) to begin work on their follow up record titled Formshifter. The latest album brings forward a sound that both plays off the band's previous releases mixed in with some new flavors that will be sure to enthrall old and new fans alike. Guitarist Greg Burgess had this to say about the new album, "With Formshifter, I think we kept the sound a lot of our fans love about us, but achieved them through certain compositional challenges. Be it style, or genre mixing, I believe that we seamlessly applied certain elements we didn't have on Fragments, and it added a color and dimension we didn't have before". Guitarist Ryan Glisan adds, "This album to me indicates the future of the band but nods to our past as well. It, to me, is more of where I have envisioned our band being since I started the band a couple years back, it relies on similar songwriting structures and musicality but adds more groove and memorable riffing than our previous efforts."
Lyrics, an oft over-looked facet of death metal is one the more interesting aspects of Allegaeon. The band crafts their prose with a bit of a different mindset – often touching on space, civilization and philosophy. Vocalist Ezra Haynes elaborates: "Lyrically speaking, this record carries more depth to me than the last. The song Twelve is actually a concept I've had in mind for roughly five years. It's about a pairing of serial killers, but instead of going about it in a more typical death metal setting, such as glorifying it; I chose to point out the stupidity and unfairness of the judicial system. I've always wanted to write an anthem-esque type song; something that involves the listeners with present day topics. With "controlled media" as the target I feel A Path Disclosed is a perfect example of that. Tartessos: The Hidden Xenocryst is definitely one that sticks out to me. I was raised on Edgar Cayce readings and tales of Atlantis. When Greg [Burgess] and I knew we wanted to touch base on an ancient civilization, Atlantis was the logical choice. Hopefully the meaning in the songs will be "found", if you will."
"The new face of ruthless modern death metal." Metal Hammer Magazine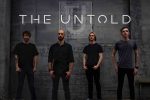 THE UNTOLD
The Untold is a band based out of Chicago, and was started in September 2017. The goal of this project is to create heavy (or sometimes not) music that many people can connect with, and to create quality music that is well written, technically proficient, but still accessible to the average listener. The music fits into several styles, and when it comes to writing songs, they are never tied to any one sound. They go where their ideas take them.