Coming from out of town?
Ride our bus shuttle from Chicago South Loop Hotel on the hour every hour to Reggies and back, starting at 11AM. 
Reserve your room at Chicago South Loop Hotel conveniently located just blocks away. Click for a special room rate
2pm Doors for Both Rooms (Saturday)

Saturday:
Music Joint-
2:30pm-3:15pm: Riddle House
3:45pm-4:30pm: Zip Tang
5pm-6pm: Mano
6:30pm-7:50pm: The Mercury Tree
8:20pm-9:40pm: JOLLY
10:10pm-11:40pm: Cheer Accident

Rock Club-
3pm-4:20pm: Thank You Scientist 
4:50pm-6:20pm: Presto Ballet
6:50pm-8:20pm: Dream the Electric Sleep
8:50pm-10:30pm: Bigelf
11pm-1am: Spock's Beard

2pm Doors for Both Rooms (Sunday)

Sunday:
Music Joint-
3:30pm-4:30pm: Pavlov
5pm-6pm: Sonus Umbra
6:30pm-7:40pm: Tiles
8:10pm-9:30pm: Adam Holzman
10pm-11:30pm: Burnt Belief

Rock Club-
2:30pm-3:30pm: Hedgehog and the Fox
4pm-5pm: Wertico, Cain & Gray
5:30pm-6:30pm: District 97
7pm-8:10pm: Scale the Summit
8:40pm-9:50pm: Trey Gunn/TU
10:20pm-12:20pm: Stick Men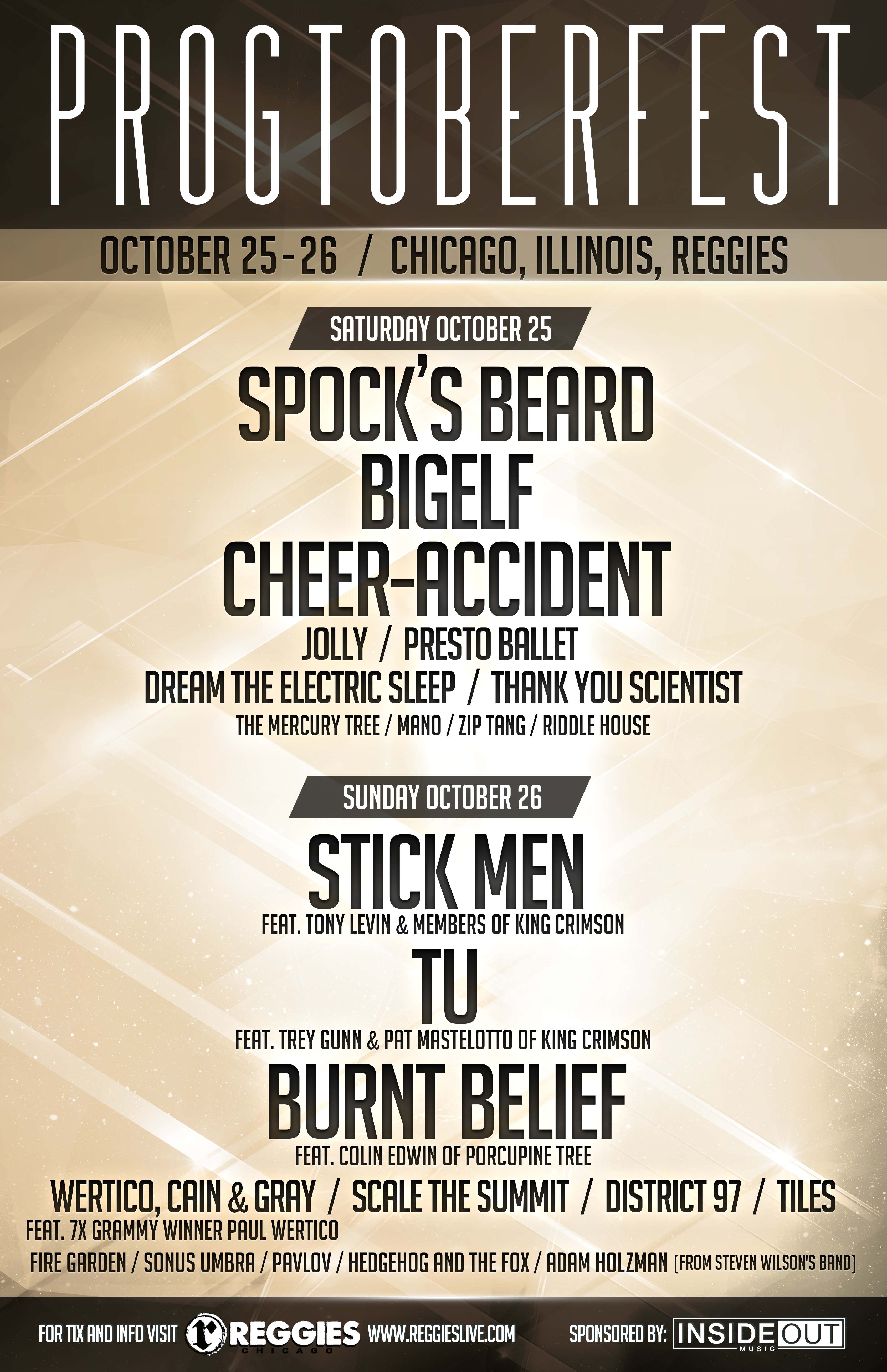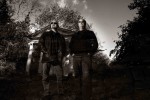 BURNT BELIEF
(featuring Colin Edwin of Porcupine Tree)
Joint project with Porcupine Tree bassist Colin Edwin and guitarist Jon Durant. A unique blend of progressive ethno-ambient fusion music, also featuring percussionist Jerry Leake and Geoff Leigh on flute.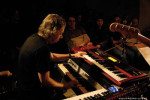 ADAM HOLZMAN
Adam is simply one of the most innovative musicians alive. He is a perennial poll-winner in the Fusion category for Pulse! magazine's year-end Top Ten listings. "Keyboard" magazine named him one of the top 10 players in the world, "Down Beat" lauded his "killer groove" and compared him to Jan Hammer – and even the "New York Times" and the "Washington Post" have praised Adam's live shows.
Born on February 15, 1958 in New York City, Adam is the son of Elektra Records founder, Jac Holzman. Adam grew up in California and started classical piano lessons at age 12, but his main influences were "The Doors", Leon Russell and Dr. John. He started getting into progressive rock and jazz-rock during the late 70s, which in turn led to a growing interest in jazz.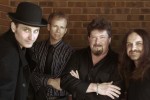 TILES
TILES is a progressive hard rock band from Detroit, Michigan featuring Mark Evans (drums), Chris Herin (guitar), Paul Rarick (vocals), and Jeff Whittle (bass). The band formed in 1993 and is signed to InsideOut Music/SPV in North America and Europe. During the past fourteen years TILES has developed a style that blends progressive rock complexity and soaring vocal melodies with an aggressive hard rock edge. Along with lyrics that reflect upon the "human experience," TILES continues to cultivate a sound that rewards more than passive listening. Ian Anderson of Jethro Tull called TILES "…undoubtedly one of the brighter hopes for the musical millennium!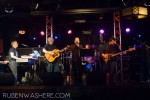 SONUS UMBRA
The past is but prologue. Back in the early 90's, three science students from the national university in Mexico City, Andres Aullet, Ricardo Gómez and Luis Nasser got together to form a band called RADIO SILENCE. From 1991 to 1994, the band played on, gaining a large cult following and a reputation for intense, unpredictable live performances. Inevitably, the band broke up, but the music and the meme lingered on.
In 1995, Nasser and Gómez moved to the East Coast of the USA under the pretense of pursuing scientific doctoral degrees, but all they really wanted was to find other players and continue what RADIO SILENCE had started. Two fruitless years later the search was abandoned and the two drifted apart; Nasser sulked in his apartment and alternated between writing music and working on his dissertation, while Gomez jammed and played with a number of different bands, ranging from punk rock to Spanish baroque troupes (which included the stretchy pants and full peacock garb).
In 1997, Nasser auditioned for a Baltimore-based band KURGAN'S BANE, led by guitarist Pete Laramee and his brother, drummer Jeff Laramee; a crisp, crunchy hard rock band of exceptional musicianship that had parted ways with their bassist and were on the eve of recording their debut album "Search from Sea to Sea". These sessions resulted in a a good friendship between Nasser and John Grant of Secret Sound studios in Baltimore, and the later discovery of a vast network of websites promoting underground prog rock made him curious to find out what the internet crowd might think of the material performed by RADIO SILENCE, back in the smoggy, boozy daze of Mexico City.
Nasser and Grant set upon the task of embellishing a demo of original material recorded on 8-track tascam tape machine for release. During the course of this project, Nasser invited Gómez and Aullet back to the fold, and the end result was a disc called "Laughter In The Dark" which, to everyone's astonishment, earned rave reviews, sold out in months, and inked the band a record deal with the now defunct indie label "Moonchild Records".
Nasser's musical chemistry with Jeff Laramee made his addition to the band as a full member in 1998 inevitable, and certain unfortunate legalities forced the band to re-name itself as SONUS UMBRA, which in pig latin roughly means "Shadows Made Of Sound". Since then, they have released three more critically acclaimed albums: "Snapshots From Limbo" in 2000, "Spiritual Vertigo" in 2003 and "Digging For Zeros" in 2005.
SONUS UMBRA went on indefinite hiatus due to the stress of continued existence in spite of vast geographical limitations: Gómez returned to Mexico City in 2000 where he is professor of mathematics at the National University. Nasser is a professor of physics at Columbia, Chicago and remains committed to recording and performing with his main band MIGHT COULD. Aullet is coding furiously in Sandy Point Idaho and Laramee remained steadfast in Baltimore, drumming with Pete Laramee and running a warehouse with his unusual gifts as both stunt fork-lift driver and a master of depraved English.
Working intermittently with his close MIGHT COULD bandmate Andy Tillotson, he and Nasser wrote music that eventually became "Winter Soulstice". The process began in late 2008 and concluded in April, 2013. A new incarnation of the band was formed with some of the most accomplished veteran musicians of the Chicago rock music scene, and is ready to release the first new album in 8 years and begin promoting the material live.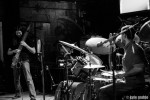 PAVLOV
PAVLOV is an Instrumental Duo featuring Matt Tate on Chapman Stick (Destroyer Or Liberator – DjM Trio – The Odd Trio) and Paul Szlachta on Drums (Unique Chique – Papa Jupiter). Performing math/avant/metal Originals and covers of Bladerunner members' bands (Naked City, Painkiller, Masada, Praxis, Slayer, Moonchild…)
$90 TWO DAY PASS
includes general admission Saturday and Sunday.
$80 SINGLE DAY VIP
includes admission for One Day plus BBQ buffet, Poster, and Meet and Greet with bands
$140 TWO DAY VIP
includes admission plus BBQ buffet, Poster, and Meet and Greet with bands (Schedule of Meet and Greets in Record Breakers TBA)
$180 TWO DAY SEATED VIP
includes admission plus BBQ buffet, Poster, and Meet and Greet with bands (Schedule of Meet and Greets in Record Breakers TBA), plus reserved Seating in Rock Club. Seating in Music Joint not reserved.