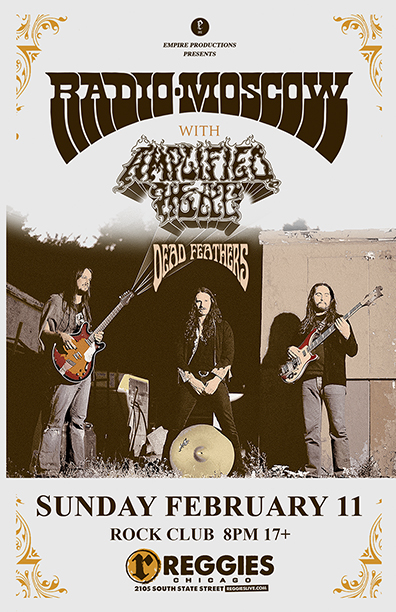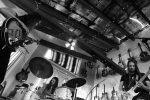 RADIO MOSCOW
Radio Moscow is a hard rocking psych power trio. They have five albums on Alive Records and have toured USA, Europe, So. America and are heading your way.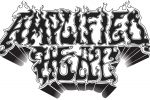 AMPLIFIED HEAT
In a time where everybody has to put a label on a band to try and separate or distinguish what kind of music they play, Amplified Heat adopts Lemmy from Motorhead's philosophy….ROCK AND ROLL! Emitting a truly menacing blues psych-rock sound from four massive walls of double stacked Marshall and Fender cabinets and a 1966 Ludwig drum kit in between – Amplified Heat continues the Texas tradition of pure, fearless rock and roll.
From Cali, Colombia the Ortiz brothers have been playing music together since the early 90's and formed Amplified Heat in 2003. Based on a tradition of bone rattling blues they take a direct approach to intense riff slinging – never pulling punches and delivering the real deal with every sonic tsunami they unleash. The band has released four full length EP's and their next album "Madera" is due out in early 2018. The band's sound pulls from a variety of influences including Cream, Jimi Hendrix, Black Sabbath, Canned Heat, Motorhead, ZZ top, and Deep Purple.
Amplified Heat has shared the stage with Blue Cheer, The Black Angels, Clutch, Thee Oh Sees, Honky, Atomic Bitchwax, Kylesa, Kadavar, Ian Moore, Dead Meadow, Corky Lang's Mountain, Buffalo Killers, Nashville Pussy, Dresden 45, and Roky Erickson amongst many others. They make multiple appearances every year at Austin's South by Southwest Festival, have played at Ohio based Emissions from the Monolith Festival, and Oakland California's Burger Bugaloo.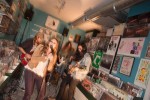 DEAD FEATHERS
Ascend yourself into the blanketing incense smoke and celestial grooves that is Dead Feathers. Like the Night sky, this band is noting below a breath of fresh air. With melodic female Vocals and the Fuzz driven riffs you might as well be seeing the fortune teller herself when you see this band live. This band takes hold of you and does not let you go. Dead Feathers has shared the stage with countless Chicago bands and touring bands from all over North America alike. A group heavily influenced by rock bands of the 60's and 70's and the underground Psychedelic bands of today, They are currently in the process of recording their first EP and playing in venues across Chicago.