11a-12:45p – Emo 2000s
1-2:45p – A Tribute to Wilco
3-4:45p – Protest Songs
5-6:45p – More Cowbell
7-8:45p – A Tribute to Rush
SoR Students & Kids 12 and under get in free!
More Info: https://locations.schoolofrock.com/oakpark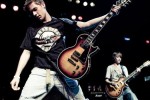 SCHOOL OF ROCK (OAK PARK)
For more than a decade, School of Rock has been inspiring kids to rock on stage and in life. Through its performance-based approach to music lessons, School of Rock students are inspired to learn, more motivated to excel and more confident as a result. To date, School of Rock students have played thousands of concerts to more than 100,000 people at such legendary venues such as CBGB's, The Trocadero, The Knitting Factory, The Whiskey, The Roxy, The Experience Music Project, as well as major music festivals like Lollapalooza and Austin City Limits. The Oak Park School has enrolled close to 200 students since it opened in May 2013, teaching guitar, bass, drums, voice, and keys to all ages.