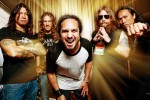 DEATH ANGEL
Not every band can live up to a legacy but every once in a while a group exceeds expectations by pushing boundaries in a genre they've helped create. DEATH ANGEL is one such band and with "Killing Season" they have raised the bar for themselves as well as maybe even creating a new genre most aptly described as "thrash n' roll." Produced by Nick Raskulinecz (Foo Fighters, Rush, Velvet Revolver, Shadows Fall, Stone Sour) at Studio 606 in Northridge, CA, this is DEATH ANGEL's most sonically devastating record to date.
Among the youngest bands ever to storm the metal genre, DEATH ANGEL have come to be known as one of the most influential bands to emerge from the thriving Bay Area Thrash Metal Scene in the early 1980s, an era where one could catch Cliff Burton (Metallica) at the front of the stage at Ruthie's Inn banging his head to Death Angel's inventive style, and speedy, complex arrangements.
In 1986, a DEATH ANGEL demo produced by Kirk Hammett (Metallica) titled Kill As One sparked the interest of Enigma Records. The band was soon signed and the band's debut, The Ultra Violence, was released in 1987. Drummer Andy Galeon was just 14 years old at the time. The album was a full-frontal assault on the ears, buzzing with the group's youthful energy, and The Ultra Violence sold 40,000 copies in just four months. Another innovative recording, Frolic Through the Park, followed, marking DEATH ANGEL's evolution both lyrically and musically. "Bored," another track from the band's second release, highlighted the cutting-edge band's inventive dynamics, and won a spot on MTV's "Headbanger's Ball."
Geffen Records was impressed enough with DEATH ANGEL's television premier to offer the band a deal, and DEATH ANGEL became the first band of their breed to appear on the major label's roster. At Geffen, the band released what is widely regarded as one of the most original and accomplished thrash metal albums ever recorded, Act III. The record pushed the limits of the genre to create something truly unique, a definitive work that is essential to any metal fan's music collection. Death Angel's masterful songwriting ability was once again on display nationwide in 1990, as the videos for "Seemingly Endless Time' and 'Room With a View' saw heavy rotation on MTV.
DEATH ANGEL's world tour between 1986 and 1990 included two sold-out tours of Japan. In fact, nearly every date on the Act III World Tour were sold out to capacity, a remarkable achievement for any band, but particularly stunning for such a young group, not to mention one comprised of cousins.
DEATH ANGEL's trajectory to fame was tragically cut short in 1990, when the band's tour bus crashed in the Arizona desert. Drummer Andy Galeon was critically injured, and would need more than a year to recover. During this downtime, vocalist Mark Osegueda left the band and moved to New York to pursue a life outside of music. The remaining members went on to form The Organization, and released two full-length albums under that name. The "O," as they came to be known, toured extensively throughout the United States and Europe, including two appearances at Holland's famed Dynamo Open Air Festival, a support slot on Rob Halford's "Fight" tour, and as the main support for a Motorhead tour in Europe.
The "O" disbanded in 1995 and the members split up into various projects. DEATH ANGEL wouldn't resurface again until 2001 to perform at a cancer benefit for frontman Chuck Billy (Testament) called "Thrash of the Titans." The response was so great that many offers came quickly in 2002, beginning with a "secret" gig in San Francisco, and sold it out under the psuedo name, "Kill As One."
The next year saw DEATH ANGEL supporting Metallica at the Fillmore in San Francisco as well as supporting Anthrax and Halford in the US. What began as a gathering of positive vibes for a friend turned into a full time mission to continue a journey that began so long ago. In 2004 Death Angel released their long awaited fourth studio disc, The Art of Dying; on Nuclear Blast. A natural progression from Act III; the new album delivered straight Thrash Metal with diverse musicality to rave reviews worldwide. The band hit the road to support T.A.O.D., embarking on an extensive tour with festival appearances in Germany, Belgium, Italy, Finland, Mexico and Japan. The group found themselves sharing the bill with many of their early influences from UFO to Alice in Chains, The Exploited to Guns n Roses!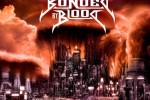 BONDED BY BLOOD
Distinguishing themselves from Southern California's extensive thrash roster, Bonded by Blood combine the raw aggression of punk and hardcore with speed, technical ability, attitude and good old-fashioned heavy metal. Formed in 2005, the teens set out with the task of finding a line-up to complete their vision. Despite clear musical differences, the band was united by their love for thrash and thus, Bonded by Blood was born.