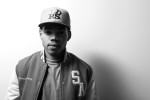 CHANCE THE RAPPER
At only 19, Chance The Rapper has generated a buzz larger than many recording artist his senior. Since the Spring 2012 release of #10Day Chance has made several radio appearances including Chicago's WGCI and POWER92, each appearance resulting in the trending of his hit tracks "Juke Juke" and "Hey Ma". The young artist has also interviewed and appeared on the cover of the Chicago Redeye newspaper and received a review from Forbes.com stating "Chance The Rapper, an artist who draws upon a pool of (these) musical elements and pieces them together into an accessible, fluid amalgamation."
Chance The Rapper's explosive stage presence has sold out venues such as Chicago's Reggie's Rock Club and inspired hundreds of fans to attend promotional events and listening parties with urban retailers such as Jugrnaut and Leaders 1354. Chance made his first appearance at the 2012 South By Southwest music festival performing at Ruby Hornet & MTV2's Digital Freshness showcase as well as sharing the stage Chicago's Kids These Days for several SXSW performances.
A defining moment that cemented Chance's drive and passion for music was his 10 Day suspension from Chicago's Jones College Prep High School during his senior year. After several teachers ridiculed his aspirations for music, he set off to make a mixtape as a course of action against the school's administration. The project known as 10 Day would evolve over time from a simple act of youthful rebellion to a rapidly growing movement with thousands of followers. Chance made his first waves on the Chicago music scene in early 2011 with the track and video for "Nostalgia" gaining him recognition on the Chicago hip-hop blog Fake Shore Drive. Although the original release much of the mixtape was retooled over time and new songs were added, including production by Chuck Inglish of the Cool Kids and the Blended Babies.
Chance garnered more momentum heading into his spring release date by producing and premiering videos for the songs "F You Tahm Bout" and "22 Offs", both directed by Chicago filmmaker Austin Vesely. The buzz generarated from these videos earned Chance a spot on Complex.com's "Top 10 New Chicago Rappers to Watch Out For" as well as praise from the article's author who stated that "Chance's intricate wordplay, and vibrant sing-songy flow has drawn comparisons to early Eminem… Even when he's menacing it sounds like he's smiling on the track." Both videos also appeared on several national hip-hop blogs, including Illroots.com and 2dopeboyz.com.