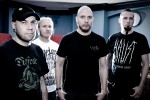 ROTTEN SOUND
ROTTEN SOUND are celebrating their 20th anniversary of Grindcore and chaos during the whole year of 2013. This crushing party begins with the release of the "Species at War" EP in January. Afterwards the wrecking will continue with many tours and festival performances all around the globe. 2013 promises to become the most intense year in the two decades of ROTTEN SOUND's existence: "Our plans are huge and we are aware that some events may not happen, but we are working very hard to bring our music to the ears of as many people as possible", states frontman Keijo Niinimaa, after returning from the honourable position of lead guest singer at the "NASUM Farewell Tour" in 2012. "We will visit some new places, while continuing to bomb those we have been playing in since the very beginning of the band. We are also determined to arrange one hell of a party before the end of 2013 to celebrate our 20 years of existence."
ROTTEN SOUND's opening assault "Species at War" contains 6 brand new tracks, which are attached to each other in order to create one insane ride through aggression and despair with a few heavier passages sprinkled in. Where "Cursed" (2011) went through the curses of humanity, "Species at War" deals with the evil consequences of wars caused by religions and cultures. "We felt that 'Cursed' needed a closing chapter both musically and lyrically", continues Niinimaa. "Therefore we decided to take everything a step further in terms of chaos and heaviness. All lyrics were written during a weekend last summer and I ended up recording them the very next week, when everything was still fresh in my mind. That paid off, because it feels as if this whole release is lyrically just one epic song.
Musically ROTTEN SOUND mercilessly attack, delivering the sonic equivalent of an apocalyptic battlefield with their seventh EP "Species at War". True to the tradition of classic Grindcore, this stunning inferno is presented in 8:05 minutes. Yet the Finns make every second count. This brutal mind-blowing onslaught of downtuned guitar and bass smashes all resistance. A fierce barrage from the drums pushes relentlessly forward and the vocal growls roll like thunder over the shell shocked ground. Then again ROTTEN SOUND deliver more than just a musical illustration of the horrors of war. A dark but warm streak runs though their Grindcore onslaught enhanced by Death Metal precision, which expresses such unexpected emotions like melancholy, longing and passion. This might serve to explain together with their outstanding technical abilities, why a band with such extreme intensity hits the charts in their native Finland with each release since the mid-2000s.
ROTTEN SOUND were formed on one insane night of July 1993, during the aftermath of a VOMITURITION studio session. The band recorded a bunch of EP's and splits before they released their first two full-lengths, "Under Pressure" (1997) and "Drain" (1998). After the "Still Psycho" MCD (2000), which was also their first proper release in North America, the Finns started to tour more actively. This took the band to a higher level and when "Murderworks" was released in 2005, media and public recognized and praised the massive new force in Scandinavian Grind. Following this success, ROTTEN SOUND's sound evolved on "Exit" (2005), the "Consume to Contaminate" MCD (2006) and the "Cycles" album (2008), which added more heavy parts and some of the forgotten Crust elements from their early years. Their latest full-length "Cursed" shook the world on impact in 2011.
Playing live has always been a high priority for ROTTEN SOUND and their journeys led them to share stages with CARCASS, EXHUMED, VICTIMS, DISFEAR, PHOBIA, MISERY INDEX, NASUM, PIG DESTROYER, NAPALM DEATH, DOOM and many other leading bands of the extreme music scene, which they shaped in union with the Finns. Now 2013 will be more than just another year for shaking the foundations of live venues and assaulting people with deadly Grindcore. ROTTEN SOUND are also planning to re-enter the studio in order to record their next album straight after the extensive touring is done. Yet first it's time to get on the road and to have the final anniversary party heralded by "Species at War". "Keep your eyes peeled, follow the news and join the Grindcore party in a city near to you!", finishes Niinimaa. War is here!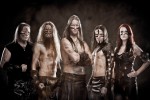 ENSIFERUM
If Black Metal and Power Metal were to ever have a child (gods forbid save this exception) it would be Ensiferum. Ensiferum uses the melodies and choral arrangements without sacrificing the thrash and black elements.