GIRL DETECTIVE
Girl Detective is a Chicago duo creating original alternative and experimental music with a lush and cerebral 80s / postmodern / altrock sound. Consisting of Rani Woolpert and Jason Oppman, the band formed in May 2010 when Woolpert, a visual artist and singer, was looking for a guitarist for another band and found Oppman on Craigslist. Oppman, a composer and songwriter since the mid-'90s, had been seeking a collaborator who shared his musical influences—'80s bands Depeche Mode, New Order, The Cure, Cocteau Twins, The Smiths, Joy Division, and others—to add to the numerous songs he had written. After hearing his music, Woolpert realized his songs had the sound she was looking for, and suggested they work together on a new project. The collaboration started with sending tracks back and forth—Oppman providing the music and Woolpert writing lyrics and recording improvised vocals on first listen. The duo began meeting weekly in Oppman's home studio in late summer 2011 to build the live sound, while also continuing to write collaboratively in the original manner.
THE NEWBURYS
Formed in Summer 2010 in Chicago, The Newburys are working to bring back that 80's jangle sound reminscent of The Smiths, REM and The Housemartins. Original songs are heavily influenced by the musical composition and meaningful lyrics that made such music appealing to the college demographic. Lead by the writing and clean chorus tone of guitarist Peter with Jon's unique sim-drum and Chuck's walking bass, The Newburys create a full, brilliant sound. Ruthie's high powered voice adds tonic dimension to the sound.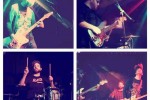 NEW OCEANS
New Oceans is a grunge rock band in Chicago. They deliver a gritty, distorted sound reminiscent of music coming out of Seattle in the early 90's. John Kehoe plays drums, Rob Miller brings the bass, and David Downs offers guitar and vocals.