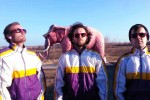 MUTTS
Mutts first played together with tape rolling on Pretty Pictures EP in July 2009. Bob Buckstaff pitched the idea of recording Mike Maimone's new material after they met as hired musicians for Company of Thieves. The pair instantly clicked over respect for honest, unrefined recordings and love of Tom Waits, Nirvana and Elliott Smith. They called mutual friends Jon Alvin and Chris Faller to engineer and play drums, respectively. Over a 3-day session in an old warehouse on the north side of Chicago, Mutts wrote, arranged and recorded their seminal release.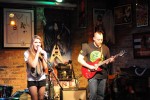 KIRBY KAISER
Hailing from Chicago, Illinois, singer-songwriter Kirby Kaiser delivers the retro melodies and lush harmonies of a 60's girl group combined with bubblegum-sweet lyrics, often tinged with the melancholy of teen romance.
Only 19 years old, Kirby's first-ever EP, both self-released and self-titled was released at the end of August 2011. Her lyrics are inspired by the likes of the Ronettes, Fiona Apple and Lesley Gore— the singer/songwriter prides herself on blending various genres to produce a sound that is all her own.