PAT TRAVERS
Pat Travers was born and raised in Toronto, Canada. Soon after picking up the guitar at age 12, he saw Hendrix perform in Ottawa. Inspired by Hendrix, as well as other artists including Jeff Beck, Eric Clapton and Jimmy Page, Travers began playing in bands early in his teens; his first bands were The Music Machine Red Hot and Merge, which played in Quebec-area clubs.
While performing with Merge, he was noticed by rock artist Ronnie Hawkins, who invited Travers to perform with him. Travers moved to London and landed a deal with the Polydor label in his early 20s. His self-titled debut album was released in 1976. Travers gained a strong following in his native country with his accessibility during his concerts. He often mingled with fans, sometimes inviting them to join him on stage.
His popularity with fans and his music skill combined to give Travers a reputation as one of the rising stars of Guitar Rock in the mid 1970s. One of his most popular songs is a cover of a Little Walter blues classic, "Boom Boom Out Go the Lights", Other popular songs included "Snorting Whiskey", "Heat in the Street", "I Just Got Paid Today" and "Stevie". The albums Go For What You Know and Crash and Burn from the early 1980s, increased his profile to that of a super star of the Guitar Rock world.
THE FAKE TAKE
The Fake Take was formed in the fall of 2008 by first cousins Michael Carpenter, Jr. (guitar and vocals) and Evan Hakim (percussion). Hakim was playing in a metal band, and Carpenter, Jr. was playing in an acoustic jazz/ blues band, when they decided to make their "jam sessions" with each other a bit more serious. The cousins began to write songs as a two piece (guitar/drums), and released the "What Do You See?" E.P. in early 2009 at the Tempermill Studios with sonic engineer and guru Dave Feeny.
The Fake Take (as a two piece) had initial success based on their energetic, raw, and powerful live shows. The cousins were able to fuse the improvisation and soul of the blues with the tenacity and drive of hard rock; but something was still missing. At the Hard Rock Café Detroit's Battle of the Bands that all changed. The band met and played for Ty Stone (a protégé of Kid Rock, Atlantic Records). He was one of the guest judges of the competition, and it was through his critique that the band evolved even further. He said that he was flat out floored by their musicianship, but reminded them "even Led Zeppelin had John Paul Jones." For Carpenter, Jr. and Hakim that statement resonated.
By fate or by just plain good luck Ty introduced them to an old friend from his days in Los Angeles, bassist Lorne Lubin. That day in the summer of 2010, The Fake Take emerged as a trio. Lubin's sense of timing and rhythm gave Hakim a partner to lock in the pocket with. And in turn the new air tight rhythm section gave Carpenter, Jr. a newfound freedom to add melodic color to songs, improvise riffs over their groove, or to just sing in the newly created spaces. In a limited amount of time their sound has matured a great deal, garnering comparisons to bands such as the Stooges, Cream, and the Jimi Hendrix Experience. The Fake Take successfully blend hard rock, blues, and funk with a raw, gritty garage sound that is timeless and uniquely Detroit.
The Fake Take pride themselves on their drive and work ethic. This Detroit band knows the meaning of hard work; in the year and a half since becoming a trio The Fake Take has played more than 100 shows. They have shared the stage with Detroit blues rock legends The Muggs, The Pat Travers Band, Chevelle, Filter, and Question Mark & the Mysterions, just to name a few.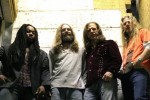 THE MAG 7
The Mag 7 is a rock band from Chicago,IL. Hawk Colman (vocals), Rob Elrick (bass), Ed Ludwig (drums), and Tony McQuaid (guitar).