PILLOW TALK
We grew up on the Promise Ring and the Weakerthans, but we traced them back as far as we could and found Johnny Paycheck, Merle, and George Jones.
Our grandparents eloped to Clovis, New Mexico, on the day Buddy Holly rolled into town to begin the first of his sessions with Norman Petty. Bob Wills was a barber in the town our folks hail from. Hank Williams wasn't from Texas, but he got here as fast as he could.
These are our credentials.
Enough talking, let's shake it.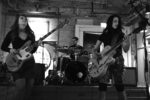 THE DYES
Chicago-based trio, The Dyes, infuse 60s inspired garage-rock with infectious 50s rockabilly undertones to create a punchy and melodic, yet raw rock n' roll sound. By digging up the roots of influences such as: Hank Williams, The Cramps, Wanda Jackson, and The Flat Duo Jets, this female-fronted trio is sure to catch the ears of a wide-spectrum of music lovers as they toss hints of punk, surf, blues, and country into the mix, and stir it up with their own unique twist.