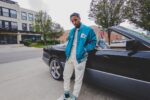 ROCKIE FRESH
If you are looking for a versatile rapping style infused with intricate bars and self-inspiration, Rockie Fresh is the artist for you. The independent Hip-Hop vet is a product of the cultural hub Chicago and brings a style unlike any other from the city.
Rockie Fresh aims to reach new levels of success, inspiring fans and living up to promise to his friends and family along the way. In each release, Rockie seeks to show a different side of himself as a person and an artist, providing a complete look into his story with each bar and beat. The latest glimpse into Rockie's world is the Slide Thru Part 2, capitalizing on one of the best 2020s of any artist and pairing him alongside some of the elite artists in his city.
His family currently inspires Rockie Fresh, presently engaged in a journey of fatherhood alongside music. He is presently using his music to give his take on everything that is going on in his world.
"My recent life experiences taught me that prayer is important when trying to navigate properly through life," Rockie said. "Also, hard work can beat bad situations; when times get tough, work harder."
With a new project on the horizon, Rockie Fresh is focused on creating better art with each drop. With two albums in the works for 2022, Rockie exudes excitement for his new music.
SAVEMONEY
64yZfKVq7Ao&feature=player_embedded
PHIL ADE
"I'm an everyday person, rapping about everyday things for every day of peoples lives…"…. – Phil Adé…. …But Maryland rapper/singer Phil Adé isn't ordinary. A creative talent, to say the least, he is poised to reign over the DMV area, releasing his sounds on anyone who is smart enough to listen. Not focused on cross-over appeal, Phil Adé's easy-going subject matter and genuine flow is a welcomed addition to the underground hip hop community…..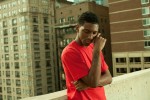 TAYYIB ALI
"Eighteen-year-old Philly rapper Tayyib Ali made a name for himself last fall with his mixtape 18 and this month he's set to drop his new one, Keystone State of Mind. Maybe it's the catchy '60s lounge sample, maybe it's Ali's smooth, friendly flow and honest message, but I can't stop listening to the title track. "Rap is my life," he says at the end of the track. "This is what I'm passionate as hell about." You can tell." -EC, NYLON MAGAZINE