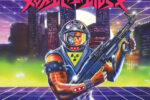 TOXIC HOLOCAUST
TOXIC HOLOCAUST mutated into existence in 1999, when Joel Grind merged his love for classic punk and metal into his ideal band. Like his influences – Bathory, Venom, English Dogs, Possessed, Broken Bones – TOXIC HOLOCAUST featured blazing riffs, gravel-throated vocals, and a deadly fixation on the evil in man and a post-apocalyptic world. Grind wrapped all of these elements up with a DIY attitude.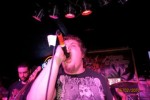 ARMORED ASSAULT
Armored Assault have been delivering riffs upon riffs to the unsuspecting masses since 2003. Not content with sticking to a label, Armored Assault is Metal. Now, armed with a new guitarist, the band's ready to unleash its first new EP in 5 years.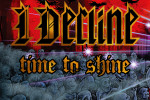 I DECLINE
The words "I Decline" represent a middle finger to the mediocrity in the world of modern hard rock and metal music.  Fusing this creed with the attitude of Punk, riff-laden hooks of Classic and Stoner Rock, and the fury of Heavy Metal, I Decline crafts its own hybrid of hard-edged music that they define as the "New Wave of American Punk Metal" (NWOAPM).  In 2010, I Decline released their 3rd full-length album Time To Shine, a bombastic onslaught of fist in the air anthems for a blue-collar society that touches upon mortality, desolation, and broken relationships.  Time To Shine is a metaphor to the aftermath of 9/11 and the personal struggles we face as humans in this chaotic world, while searching for new hope.  During their fourteen-year history in the Chicago music scene, I Decline has provided support alongside Nick Oliveri (Queens of the Stone Age, Kyuss, Mondo Generator), Joe Preston's "Thrones" (Melvins, High On Fire, Sunn O))), Earth), Toxic Holocaust (Relapse), Holy Grail (Prosthetic), and Krum Bums (Century Media).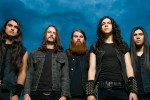 HOLY GRAIL
Formed in Southern California in 2008 when vocalist James Paul Luna and drummer Tyler Meahl diverged from Pasadena metal squadron White Wizzard and teamed up with San Diegan guitar hero Eli Santana, the band was called Sorcerer until it became clear that the moniker didn't quite capture the rarefied nature of the members' collective talents. Sorcerer became Holy Grail. The band became so unstoppable that California just couldn't contain them and now, like their spiritual forefathers in Iron Maiden, Judas Priest and Dio, Holy Grail are poised to bring their hook-laden shred anthems to an arena near you.
Holy Grail are heavy metal personified, possessing a seemingly infinite arsenal of mind-blowing riffs, skyscraping vocal melodies and devastating drum dynamism. Not mention the kind of six-string acrobatics and straight-up power-shredding that would make Yngwie Malmsteen chuck the proverbial goat in sweep-picking solidarity. "We shred and we're serious about it," Luna offers. "This is not a tongue-in-cheek thing. It's not throwback or retro. Holy Grail is a modern band with a new twist on the best of old-school metal with death metal riffs, modern breakdowns and power-metal singing. We just tried to pick stuff from all our favorite bands and make the best blend of metal we could."
But don't take our word for it—or Luna's. The fine folks at Decibel magazine knew exactly what they were talking about when they hailed HOLY GRAIL as "the most exciting prefix-free metal band to come out of L.A. in the last two decades." The esteemed editors at UK's Metal Hammer nominated the gentlemen of the Grail for the magazine's "Best New Band" award at their annual Golden Gods ceremony before Holy Grail even had an album out. But a certain tall, handsome genius over at Thrasher summed it up best when he proclaimed, "Holy Grail are the reason that heavy metal will never die."