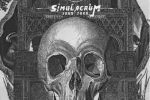 SIMULACRUM
The most extreme organ trio ever, Simulacrum is yet another wild new direction from Downtown Alchemist John Zorn, who continues to explore new worlds and new ensembles into his sixth decade. Zorn composed the music for their SIX TZADIK CDS in a creative fury in 2015-2016 and the band grew tighter with each new release. This rare live concert will feature a special program of compositions drawn from across their huge repertoire. Dramatic through-composed pieces that unfold with a cinematic logic, this genre bending music defies classification, touching upon metal, jazz, minimalism, atonality, noise and more.
Passionately performed by an unusual all-star trio of John Medeski (MMW), Matt Hollenberg (Cleric) and Kenny this is powerful and fascinating music that highlights the MENTAL in experimental!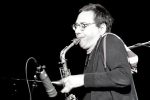 JOHN ZORN
John Zorn was born September 2, 1953 in NYC and has been in touch with the creative environment of downtown New York most of his life. Drawing on his experience in a variety of genres including jazz, rock, hardcore punk, classical, klezmer, film, cartoon, popular and improvised music, John Zorn has created an influential body of work that defies academic categories.
He has been a central figure in the dowtown scene since 1975, incorporating a wide range of musicians in various compositional formats, his experimental work in rock and jazz with the bands NAKED CITY, PAINKILLER and MASADA earning him a large cult following.
His early inspirations include American innovators [Ives, Varèse, Cage, Carter and Partch], the European tradition of [Berg, Stravinsky, Ligeti, Boulez and Kagel], soundtrack composers [Bernard Herrmann, Ennio Morricone and Carl Stalling], avant-garde filmmakers such as [Harry Smith, Jack Smith, Kennet Anger, Stan Brakhage and Jean-Luc Godard], Ontological-Hysteric Theater director [Richard Foreman], experimental rock and jazz as well as avant garde theater, film, art and literature.
He established the Tzadik label in 1995, opened The Stone performance space in 2005 and has published and edited five volumes of musicians' writings under the title Arcana.
He tours extensively with his various ensembles, playing a great variety of music and his works are performed worldwide by rock bands, improvisers, jazz musicians and classical ensembles. He has received numerous commissions from among others, the Kronos Quartet, the New York Philharmonic, EOS Orchestra, Netherlands Wind Ensemble, Brooklyn Philharmonic, Bayerischer Staatsoper, WDR Orchestra Koln and American pianist Stephen Drury.
He has been awarded the William Schuman Award for composition from Columbia University, the Cultural Archievement Award from the Foundation for Jewish Culture and is a MacArthur Fellow.