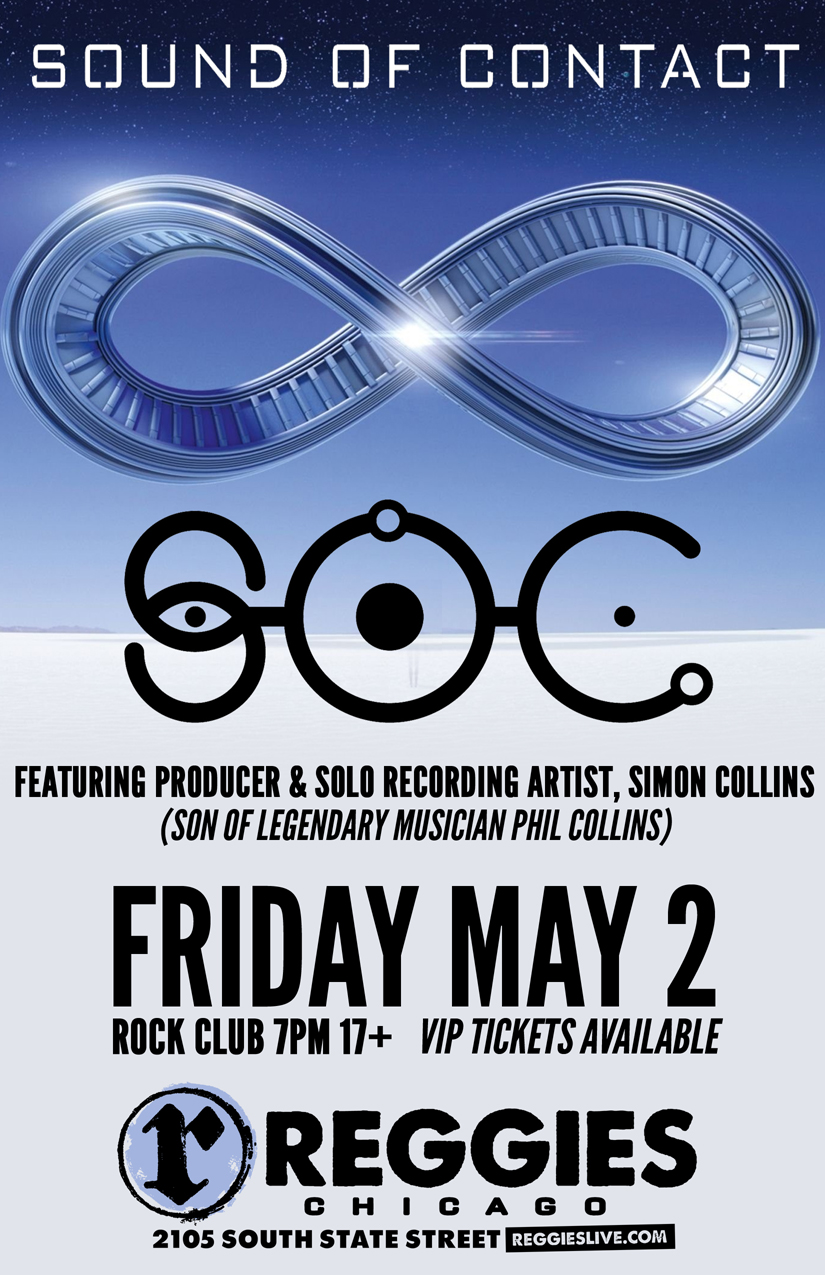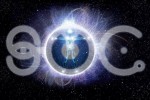 SOUND OF CONTACT
Sound of Contact is the new progressive rock band from producer & solo recording artist, Simon Collins.
2013 saw the release of their debut Sci-Fi concept album 'Dimensionaut', and was immediately met with rave reviews and critical acclaim.
Co-produced by Collins and Sonic Reality's Dave Kerzner, the band hears Collins behind the kit as well as being the lead singer.
He is joined on the album by Matt Dorsey with musicians Dave Kerzner, Kelly Nordstrom and a guest appearance from Hannah Stobart.
Sound of Contact have created a unique sound, while paying homage to the greats of Classic and Progressive Rock.
They were voted "Best New Band" taking home the "Limelight Award" at Prog Mag's 2013 Progressive Music Awards and also topped many radio stations and music critics' "Album of the Year" polls.
With 3 solo albums under his belt, Simon Collins (son of legendary musician Phil Collins) decided to finally form the band he had been working towards throughout his career.
Having grown up on tour with Genesis, Simon had a rare and unique perspective that inspired him at an early age to pursue his own music career and eventually created, Lightyears Music, his own record label to release all his solo albums, and now his new band.
After 15 years of writing, producing and promoting his solo work, Simon had worked with a plethora of talented musicians, but continued to work closely with some who he shared a strong connection and a rare chemistry. With this shared vision and strong musical bond, they embraced what was clearly an organic evolution and decided to bring their creative forces together. That came to form what is now the band, Sound of Contact.
With their debut album "Dimensionaut", they hit the ground running with a deep concept album about a dimensional time and space traveller making wild discoveries on a trek to expand the boundaries of the human experience. The album features a wide range of styles and dynamics from dark and mysterious progressive rock to nostalgic classic rock to high energy alternative to sci-fi film score-infused "space rock". With a plethora of atmospheric instrumental segues, melodic radio-friendly vocal tracks and an 18+ minute long epic grand finale, "Dimensionaut" offers a refreshing balance of adventurous musical styles and aims to bring back the art of the concept album to a new generation of listeners.
"This is the prog genre distilled down to its purest form' – Prog Magazine
"I'd love to talk about this album all day, it's one with which I feel I'm going to be spending a big chunk of my life" – Wave Maker Magazine
"Lush and awe-inspiring" – Renowned For Sound
"Utterly Magical" – Audioholics
"A unique album to repeatedly savour" – Classic Rock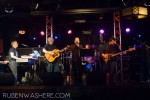 SONUS UMBRA
The past is but prologue. Back in the early 90's, three science students from the national university in Mexico City, Andres Aullet, Ricardo Gómez and Luis Nasser got together to form a band called RADIO SILENCE. From 1991 to 1994, the band played on, gaining a large cult following and a reputation for intense, unpredictable live performances. Inevitably, the band broke up, but the music and the meme lingered on.
In 1995, Nasser and Gómez moved to the East Coast of the USA under the pretense of pursuing scientific doctoral degrees, but all they really wanted was to find other players and continue what RADIO SILENCE had started. Two fruitless years later the search was abandoned and the two drifted apart; Nasser sulked in his apartment and alternated between writing music and working on his dissertation, while Gomez jammed and played with a number of different bands, ranging from punk rock to Spanish baroque troupes (which included the stretchy pants and full peacock garb).
In 1997, Nasser auditioned for a Baltimore-based band KURGAN'S BANE, led by guitarist Pete Laramee and his brother, drummer Jeff Laramee; a crisp, crunchy hard rock band of exceptional musicianship that had parted ways with their bassist and were on the eve of recording their debut album "Search from Sea to Sea". These sessions resulted in a a good friendship between Nasser and John Grant of Secret Sound studios in Baltimore, and the later discovery of a vast network of websites promoting underground prog rock made him curious to find out what the internet crowd might think of the material performed by RADIO SILENCE, back in the smoggy, boozy daze of Mexico City.
Nasser and Grant set upon the task of embellishing a demo of original material recorded on 8-track tascam tape machine for release. During the course of this project, Nasser invited Gómez and Aullet back to the fold, and the end result was a disc called "Laughter In The Dark" which, to everyone's astonishment, earned rave reviews, sold out in months, and inked the band a record deal with the now defunct indie label "Moonchild Records".
Nasser's musical chemistry with Jeff Laramee made his addition to the band as a full member in 1998 inevitable, and certain unfortunate legalities forced the band to re-name itself as SONUS UMBRA, which in pig latin roughly means "Shadows Made Of Sound". Since then, they have released three more critically acclaimed albums: "Snapshots From Limbo" in 2000, "Spiritual Vertigo" in 2003 and "Digging For Zeros" in 2005.
SONUS UMBRA went on indefinite hiatus due to the stress of continued existence in spite of vast geographical limitations: Gómez returned to Mexico City in 2000 where he is professor of mathematics at the National University. Nasser is a professor of physics at Columbia, Chicago and remains committed to recording and performing with his main band MIGHT COULD. Aullet is coding furiously in Sandy Point Idaho and Laramee remained steadfast in Baltimore, drumming with Pete Laramee and running a warehouse with his unusual gifts as both stunt fork-lift driver and a master of depraved English.
Working intermittently with his close MIGHT COULD bandmate Andy Tillotson, he and Nasser wrote music that eventually became "Winter Soulstice". The process began in late 2008 and concluded in April, 2013. A new incarnation of the band was formed with some of the most accomplished veteran musicians of the Chicago rock music scene, and is ready to release the first new album in 8 years and begin promoting the material live.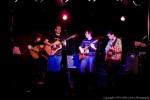 MIGHT COULD
Might Could started as a duo. Andy Tillotson and Tim McCaskey used their acoustic guitars to survive grad school. They made a home-burned CD with a few songs on it.
Around 2003, they met Aaron Geller, an undergrad chem major at the time. It just so happened he knew an obscure harmony part to a video game song the duo knew, so he joined up and made Might Could a three-guitar band. Andy and Aaron are the main songwriters.
Luis "Gordo" Nasser knew the original duo from the physics department (so now 3 of the members have a PhD in physics), and happily signed on. Might Could happily welcomed Gordo since he is a veteran of several musical projects (like Sonus Umbra and Kurgan's Bane) and he brought bass and songwriting expertise to Might Could. The full lineup of three guitars and one bass is full, dynamic, and fun to listen to.
We've released three critically acclaimed (and more importantly, warmly received) full length albums: The first is called All Intertwined, and it was finished in August of 2005. The second is called Wood Knot, and was finished sometime in 2007. Our latest, Relics from the Wasteland, was released in 2013.
Might Could tries to entertain listeners by creating and performing songs with rhythmically interesting, tight, and neatly interlocking parts. Our music serves as a contrast to guitar albums filled with endless soloing. People have told us our songs seem to draw from influences ranging from heavy metal to progressive rock to jazz, and we've been compared to King Crimson, the California Guitar Trio, Steve Morse, Michael Hedges, and Béla Bartók. Our interests are playing live often and writing material that is challenging and rewarding, both for ourselves and our audience.
Andy, Tim, and Luis also perform in the band Sonus Umbra.
$30 VIP Tickets
includes early entry and Meet and Greet.