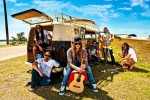 SOWFLO
SowFLo, an acronym for (So)uth (W)est (Flo)rida, from the "Paradise Coast" Naples, FL is a refreshing new take on contemporary Reggae music. With a distinct acoustic surf-rock/reggae sound, sowFLo sings a song of light-hearted melodies, whole-hearted lyrics and good vibrations. "We don't make music, we create movement."
sowFLo was conceived in 2009 when Jake Dorris (Vox & Ac Guitar) and Joe Records (Producer/Keys) linked up at a local party. The two began collaborating, and everything fell into place soon after. Already involved in the local music scene, the band was completed when close friends; Andre Beaudette (Drums & Percussion), Daniel Sahin (Lead Guitar), Christian Yacono (Bass & Vocal), and Nick Grim (Trombone) committed to the group.
The young reggae band released their self-titled debut EP in 2010, engineered by 5-time Grammy-winner Marc Lee and mastered by none other than Michael Fuller. Since then, their single "Paradise" has amassed over 130,000 views on YouTube, and is in rotation on Aruba's multiple radio stations.
sowFLo was recently voted #1 SouthWest Florida Reggae Band by over 25,000 online voters for the 1st Annual SPOT Magazine Awards.
Their newest 5-song EP titled "Rising", continues their working relationship with producer Joe Records, Grammy-winning engineer Marc Lee, and legendary Paul Fakhourie whose production credits include Bob Marley & The Wailers, Eric Clapton, Lauren Hill, Julian Marley, Damian Marley, Nas & Damian Marley, and Stephen Marley, among many others.
"Rising" EP is slated for world-wide release on Thursday, July 18th 2013, followed by a 30-day Midwest Tour. Upon their return sowFLo will be sharing the stage with Inner Circle, Tarrus Riley, Dean Fraser, and Rootz Underground at West Palm's Summer Jam 2013 on August 31st, and September 1st, 2013
Together, sowFLo exemplifies the message, "Everything is going to be alright," and lifestyle of being easy.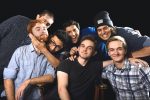 THE KING OF MARS
The King of Mars (TKOM) formed in 2015 as a traditional four-piece rock band and has since evolved into a larger group with synths, auxiliary percussion, and a horn section. Their sound shakes the foundation of traditional rock music by encompassing Jazz, Funk, and Soul musicality alongside insightful lyricism.
TKOM consistently performs at many popular Chicago venues. In 2017, they ventured off and successfully completed their first tour where TKOM gained fans along the East Coast and throughout the South and Midwest. In the summer of 2018, they will release two singles followed by the release of their 2nd EP in the fall.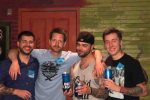 HITSLEEP
Hitsleep is an alternative rock band hailing from Chicago, IL. Punches of reggae and pop music make way for a pleasantly unique listening experience.