The concert featuring Stoner is POSTPONED. Unfortunately the band can not appear tonight, Saturday January 1, 2022. We are working on a new date and all previously purchased tickets will be honored. If you can no longer attend due to the date change, refunds are available upon request.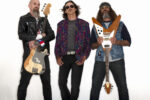 STONER
Rad stays rad.
A few ideas are timeless.
Stoner is Brant Bjork (guitar/vocals), Nick Oliveri (bass/vocals) and Ryan Gut (drums), and from flowing jams to all-out punker blasts, they know what they're doing. It ain't anybody's first time at the dance, and you don't call your band Stoner if you've never heard the word before. Stoner, however straight-ahead their moniker, encompass varied styles and the songwriting of Bjork and Oliveri – both founders of Kyuss, also Mondo Generator, Ché, Fu Manchu, Bloodcot, and more between them. Atop the classic-style swing and flow from Gut (also of Bjork's solo band), Stoner keep it casual and wear the name as only those who helped create the sound could
PUREPILOT
RISING from the bones of "desert rock", this powerful three peace from NWI promises to deliver a soul gripping welcome addition to what we know to be stonerrock. PUREPILOT is a heavy & melodic, psychedelic assult on the landscape of the dune……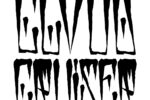 CLOUD CRUISER
Cloud Cruiser is a concept based Desert Rock band from Chicago, IL. Our first installment is titled "I: Capacity" We follow the story of a young man on a quest for flight. He is illuminated, but only for a brief time. Returned unfit, he is only a piece of the puzzle that unfolds. The journey is boundless.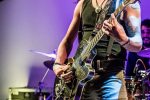 RICKY LIONTONES
Ricky Liontones is the musical project of the Chicago-based musician by the same name. A band that mixes the funky pop-rock sensibilities of David Bowie, Prince, Unknown Mortal Orchestra with the psychedelic grit akin to Queens of the Stone Age, T-Rex, and Soundgarden. We've shared the stages with Joanna Connor, Blacktop Mojo, Blue Dream, Lavisher, Boulevards, Mike Zito, Cuevo, Krantz, Local Motive, Kelroy, Shi la Rosa, Fundamental Kink, The Kings Rising, Groovy Louie and the Time Capsules, Goose Corp., The Lunar Ticks, Matt Hendricks, Bailey Dee, Daisychain and even thrown after-parties for White Denim. Stages we've played include Reggies, Liar's Club, Cobra Lounge, Emporium, The Empty Bottle, Livewire, The Burlington, The Exit, HVAC Pub, Honky Tonk BBQ, The Virgin Hotel, G-Man Tavern, Cheer Up Charlies, and The Owl. We've also been a part of Ruido Fest and Pilsen Fest. Links to the tunes and social media can be found below: