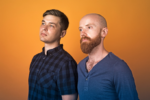 SUNGAZER
Originally formed in Brooklyn, NY in July of 2014, Sungazer has brought their unique blend of hard-hitting Jazz Fusion, 8-bit, Progressive Rock and EDM to audiences in the U.S. and Europe. Sungazer explores the human element of improvisation within the context of modern electronic music. Exciting, hard-hitting, and never predictable, Sungazer creates music aimed squarely ahead into the 21st century. They released their sophomore EP entitled Sungazer, Vol. 2  in 2019.
On October 11, 2021 they released their debut full-length album, Perihelion. The long-awaited debut LP explores time and the liminal spaces between jazz improvisation and modern electronic music aesthetics. The album was co-produced and mixed by Simon Grove (Plini, Protest The Hero, Intervals) and features an eclectic cast of guest musicians including Joshua de la Victoria, Hannah Sumner, Jae Soto, Tom Monda (Thank You Scientist), Shubh Saran, Jared Yee, Christian Li, Zac Zinger, Brian Plautz (Aberdeen), Brian Krock (Big Heart Machine) and the Resonance Collective.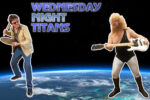 WEDNESDAY NIGHT TITANS
Drummer Zach Danziger and bassist Kevin Scott are two of the baddest musicians on the global music scene. Wednesday Night Titans is their baby, a multimedia, Championship Wrestling-fueled extravaganza that's one-part NASA-like brain challenge (Google "Zach Danziger TED Talk"), two parts interactive video shock treatment, and three parts future-music language lesson.
Utilizing the zany antics of such 1980s-era wrestling icons as Hulk Hogan, Ric Flair, Dusty Rhodes, and Randy "Macho Man" Savage as their video-projected inspirations, Wednesday Night Titans create a unique, proto-cosmic barrage, manipulating speech, video, music, and lights from their instruments in real time. It's an over-the-top mind-gasm of roid-warrior madness, and performance art profundity.