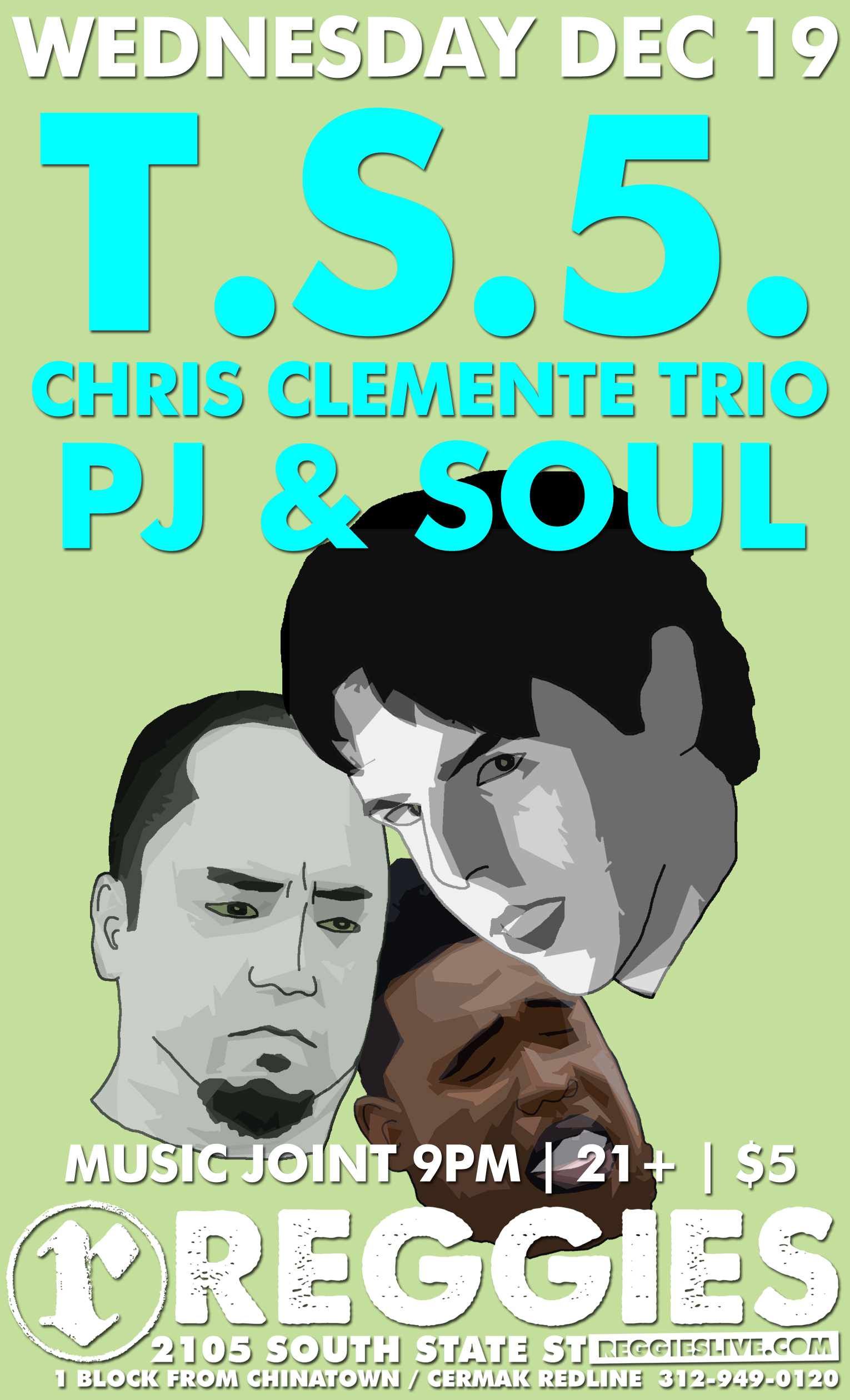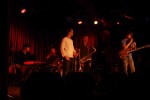 T.S.5
T.S.5 is a musical experience like none other. This jazz/funk band melds feel good grooves with improvisation to create music that is good for the soul. Featuring some of Chicago's most talented instrumentalists, Drummer Jonathan Marks, Keyboardist Andrew Toombs, Saxophonist Rich Moore and Trombonist Luke Malewicz. T.S.5 has played many major Chicago and Midwest venues including The Green Mill, Martyrs, and The Taste of Chicago.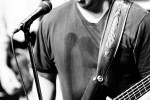 CHRIS CLEMENTE TRIO
Chris Clemente – Bass Guitar/Producer
Chris was recognized in Bass Player Magazine for his bass playing on the CD release of the Chicago band "Amazing Headgear". Chris released a CD debuting his own band, "Kick the Cat", featuring his contemporary jazz compositions and bass playing. The first of KTC's 3 CDs was lauded in Bass Frontiers Magazine as "…spirited and fresh". "Bassist Clemente funks, swings, and solos with style and ease…" As a result of KTC's debut CD, I became an official "Famous User", clinician and product specialists for international bass company Warwick In 2004, Chris was the featured Artist on Warwick's website. In 2008 Wil Ramirez of Ramirez Bass built the Model 'CC' bass guitar, which he helped to design and develop. Clemente was a featured Guest speaker at Northeastern University for its Contemporary Music symposium 1996 and Featured Artist at Northeastern University's New Music Concert performing an original composition on Solo Electric bass. Chris performed as a musician in Tom Cruise's break out movie "Risky Business" on Warner Bros and performed with Academy Award winner Jennifer Hudson (Dream Girls and American Idol) on the Oprah Winfrey Show, 2007. A brief list of names with whom Chris has performed includes; Umpherys McGee, Drop Q, Jon Secada, Randy Brecker, Hiram Bullock, Percy Sledge, and The Coasters. Christian Howes, Bobby Flynn, Kanye West and Jennifer Hudson as well as other numerous artists of varied styles. He has toured parts of Scandinavia and the orient. Other Chicago groups Chris has supported include: Crawl, Drop Q, Kick the Cat, Tributosaurus, Ladies of the Canyon, Willow Creek, Ravinia Music Program, Andrea Amos Project, Day Jams. In June of 2009 he received a Masters degree in Music from DePaul University. During the school year Clemente is a teaching artist for Ravinia. He is a contributing composer for Harpo Studio and Chicago Public Radio's Vocalo.org project. In 2010 Chris Clemente and his cohorts in Crawl were commissioned to compose and perform original music with the Elmhurst Percussion Ensemble.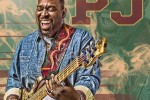 PENNAL JOHNSON
PJ is a Bassist, writer & entrepreneur from Chicago's West Side. PJ began playing bass guitar at the age of 8 years old. His cousin bought a bass guitar and a keyboard for his son to play. He did not take to it and passed it on to PJ. While PJ was practicing with his cousins, PJ realized that he could play by ear. This was the beginning of a beautiful thing for PJ.
While PJ was attending Hugh Manley High School in Chicago, he learned to read music and to go on and sharpen his bass playing skills. In his sophomore year PJ was selected to be a part of Manley's Jazz band. From there PJ was selected to be the bass player for The Chicago All-City Jazz Band from 1984 to 1987. During this time PJ received numerous awards which include "The Outstanding Soloist Award" at the Midwest Jazz Festival and "Outstanding Musician of the Year" from All City Jazz Band of Chicago.
After High school PJ started playing professionally around the Chicago area and Gospel recording artist Rev. Jessy Dixon approached me and asked me to become the full-time bass player for him and his choir. It was Rev. Dixon, who taught PJ showmanship and how to be a professional musician. This position provided PJ with the opportunity to perform with the talents of Andre and Sandra Crouch, Kurt Carr and Abraham Laboriel.
Currently PJ working with his new project "PJ & Soul" and just finished a CD to be release in November 2013. PJ also is touring the USA and abroad with Rodney Sir Nose Trotter as Bass Player and Musical Director. When not touring PJ is doing clinics and studio sessions.
PJ's goal is to enjoy Life simply to have fun!