Tickets will be refunded at point of purchase. If you bought tickets in person through our box office you'll need to come in for a refund.
If you need any assistance or have any questions, please don't hesitate to call us at the club: (312) 949-0120 or email us: info@reggieslive.com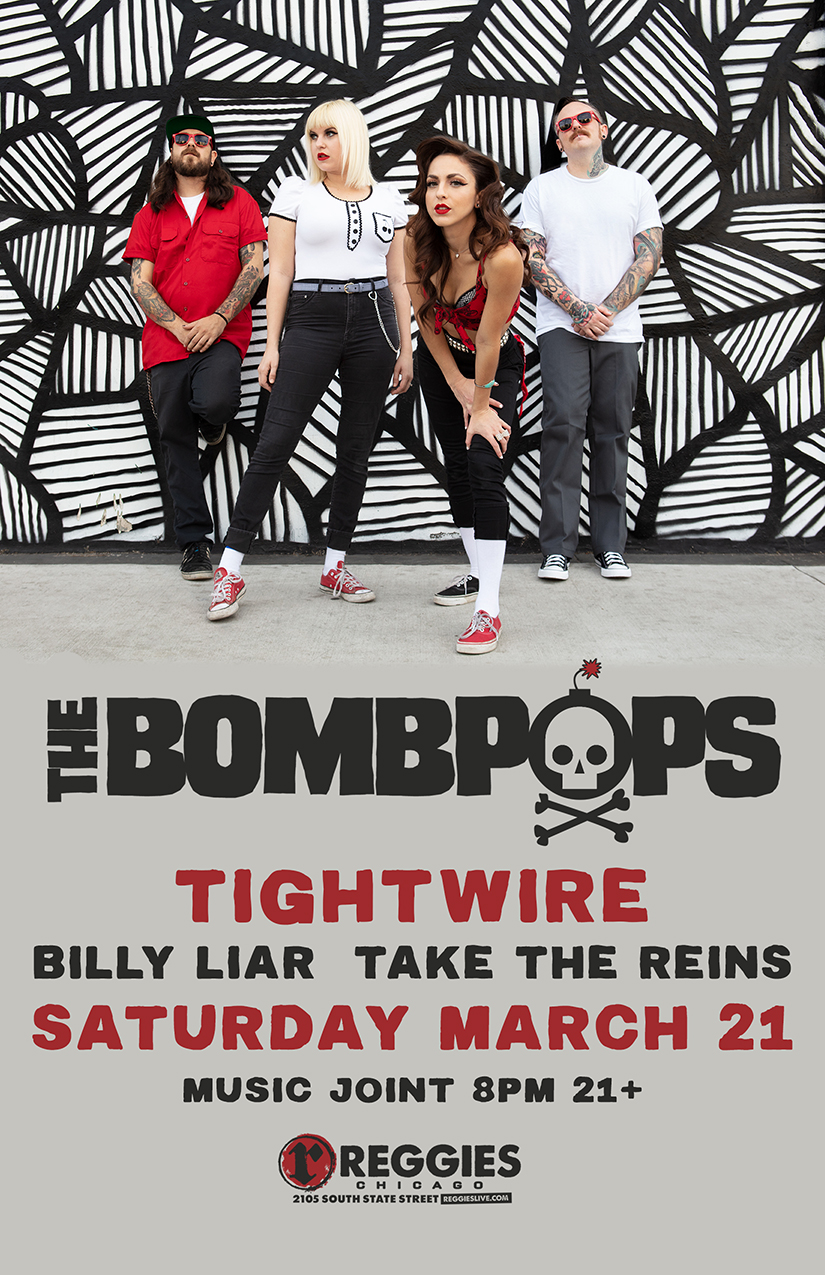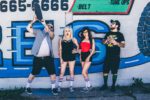 THE BOMBPOPS
Members:
Neil Wayne – Bass
Poli van Dam – Guitar & Vocals
Jen Razavi – Guitar & Vocals
Josh Lewis – Drums
We put a lot of thought into being able to tell stories with these songs," says Jen Razavi who, along with Poli van Dam, founded The Bombpops in 2007. Together, Razavi and van Dam became the band's backbone, writing songs that highlighted their dual guitar attack and were carried by their pitch-perfect vocal harmonies. It'd take the band a decade to release their first full-length album, but 2017's Fear of Missing Out was a perfect distillation of everything they'd been working toward. And now, with the Dear Beer EP, they're proving that there's plenty more where that came from.
The four new tracks that make up Dear Beer are as distinct as they are powerful. "The song 'Dear Beer' was collectively everyone in the band's favorite song," says Razavi, and it's easy to see why. Where Fear of Missing Out saw Razavi and van Dam throwing out pointed lyrical jabs, Dear Beer ups the introspection. Make no mistake, there's still a bit of bile getting spit up, but there's just the right amount of levity mixed in. It's what allows these songs to work as stories, ones that are resonant for the band members, and will surely hit home for anyone who plays Dear Beer all the way through.
"I love a song where the lyrics tell a story, and although I may have never experienced anything like what is happening in that story, the song allows me put myself in that person's place," says Razavi. The Dear Beer EP finds unity in the thematic elements of each song, as each one sees The Bombpops offering up personal anecdotes and crafting songs that have, as Razavi and van Dam intended, a narrative arc. It's seen in "Dear Beer," where they swear off drinking alone and vow to stop being "a fucking downer," a mantra that enables them to cut out the source of the toxicity without a second thought. But even when it gets a little heavy, The Bombpops find ways to make it all feel uplifting.
"'Dear Beer' and 'Turn up the Thermostat' are particularly dark," says Razavi, "They're a bit self-loathing and reflect on negative experiences." While the lyrics on Dear Beer are culled from difficult experiences, The Bombpops use their buoyant music to push back against the things weighing them down. And of course, it doesn't hurt that they throw in just the right amount of self-deprecation to keep themselves from ever making it too much of a bummer. "We intentionally put those lyrics to playful, poppy melodies. It weirdly has a therapeutic effect in the long run," says Razavi. "Making them light and playful makes the thing that seemed so dramatic to us at the time something to laugh about now."
That balance between the series and the lighthearted is what makes Dear Beer not just the logical evolution of The Bombpops sound, but also the start of a new chapter for the band. It may have taken them a decade to release their first album, but as Dear Beer proves, the wind is at their back, and nothing is going to keep them down.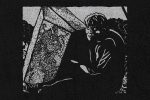 TIGHTWIRE
One of the Dillinger Four dudes sent us music from a young band outta Minneapolis, and as usual, we groaned, rolled our eyes, and then grudgingly listened to the songs. WAIT A SEC. Holy shit… this band RIPS! (Super catchy and sounds like The Copyrights playing "Dude Ranch"). A new band with a great demo… is this a trap? We reached out right away and basically demanded that they join us at Red Scare. They're called Tightwire, and they're giving you 13 self-recorded blasts on this debut album entitled, "Six Feet Deep", mixed by Matt Allison (Alkaline Trio, Dead To Me, The Menzingers). The two singers, Paul and Tane, offer the kinda dark/poppy jams you would expect from salty MPLS punks: love songs, drinking songs, angry songs, drinking songs, funny songs, drinking songs, etc. This should go down as one of the best pop-punk albums of the year, and you can expect lotsa tours from this Midwest trio as they already have shows booked with Dillinger Four and Off With Their Heads.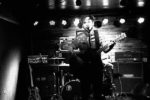 BILLY LIAR
Scottish punk band of one, signed to Red Scare Industries.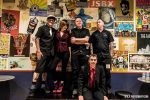 TAKE THE REINS
TAKE THE REINS is a Chicago area rock band. In 2017, they recorded and released their debut album "Addiction by Subtraction".
Called "an explosive mix of Joan Jett and The Pretenders", frontwoman/vocalist Courtney Boyers & crew churn out 12 hard-hitting tracks exploring varying themes on addiction, despair and defiance. Don't miss out on this eclectic mix of songs that doesn't let up, from start to end.
Founded in 2011, TAKE THE REINS is made of of members from local music greats – Mostly About Nothing & She Likes Todd, contributing to their distinctive sound.