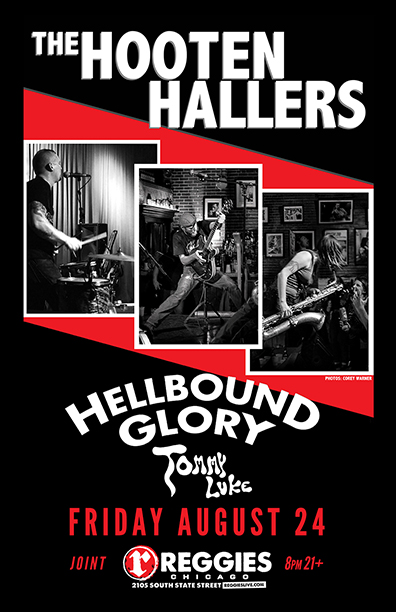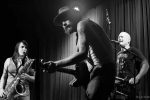 THE HOOTEN HALLERS
Columbia, Missouri trio The Hooten Hallers are a high-energy blues, rock, and soul band known for hard-traveling and wild live shows, with a seemingly endless tour schedule. The myriad of influences in their music range from pre-war blues to rock'n'roll to honky tonk and a hint of jazz, with a thematic penchant for the strange and the unexplained. In the same vein, the Hooten Hallers' music isn't quite Americana and it's not quite punk, but a bit of both, fused together in a drunken tangle. Their live shows take the listener on a seamless ride from unapologetically raucous blues on the lap steel and bass sax, to a sweet three part harmony country ballad, to a romping dance number.

The Hooten Hallers' new self-titled album, out April 21, 2017 on Big Muddy Records, is the culmination of their experiences from 10 years of performing and traveling together. They've injected the album with the stories and characters they've been meeting on the road all this time. Produced by Johnny Walker (Soledad Brothers, All Seeing Eyes) and Kristo Baricevic (Big Muddy Records), the Hooten Hallers' latest effort showcases their evolution as musicians and songwriters. It garnered attention by Noisey – "This album rules"; Rock'N'Reel (UK) – "This is a band that really understands and exudes the history of rock and roll"; Impose Magazine – "another stunner of a music collection"; New Releases Now – "one of the most dynamic live shows around"; AXS – "This album is sheer madness in the best way"; Ground Sounds – "gritty, groovy, and bluesy"; No Depression – "evokes images of Tom Waits tending to a trotline at Lake of the Ozarks", amongst others.
John Randall's demonically-tinged vocals and blues-inspired, manic guitar, and Andy Rehm's screaming falsetto vocals and steady, pounding drum beat keep the band focused on their unique blend of deep blues and country punk. Kellie Everett brings the power with the deep rumble of her baritone and bass saxophones. When The Hooten Hallers come to town, you know it's gonna be a party!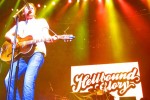 HELLBOUND GLORY
As their name alludes, Hellbound Glory is well on their way to proving they are a force to be reckoned with in the country music. Fusing superior song writing and hard living characters with a hard-edged country honky tonk sound. The group is known for its instrumental dexterity, while vivacious frontman Leroy and his compadres are also notorious for their down-home, good-old-boy attitude. This type of attitude and song writing chops, to back it up, have won over fans far and wide. Whether they are playing in front of two hundred or two thousand, Hellbound Glory delivers on their performance and leaves audiences begging for more as they envelop the crowd with Leroy's powerful story telling and showmanship.
Throughout the mid 2000's, Hellbound Glory began defining their indie Americana sound, before that was even a genre. They were moderately successful, but they never had a breakthrough hit on the country charts. But the new album "Damaged Goods" is set to change all that. Hellbound Glory knew there was an audience for Real Country and they stuck to their guns writing and recording songs full of grit, character and about problems facing rural America.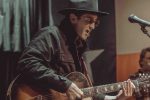 TOMMY LUKE