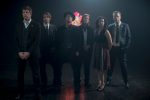 THE TOSSERS
The south side of Chicago has a tough working class reputation, it's also known for one of the largest populations of Irish people this side of the Emerald Isle. So it's not entirely incongruous that a hard luck kid from the south side of town would choose to play traditional Irish folk music in pubs around the neighborhood. At 18, Anthony (T.) Duggins, was doing just that – playing pub favorites and covers of greats like Christy Moore, and Ewan MacColl. Before long his brother and his best friends were playing the original songs he had written as well, and so became The Tossers. The name was taken from an old slang term used for worthless British coins in Sean O'Casey's play The Plough and the Stars. The coins became useless after the southern Irish Free State won independence from Britain, and started to print it's own currency. The term tosser has since come to mean wanker, or it's American equivalent, jag off.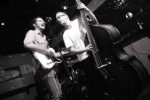 OLD GRAND DAD
OLD GRAND DAD is an ethylene soaked 4-piece from Chicago, Illinois. Bred for rockabilly, these freaks have started sneakin' out by the light of the moon to taste the rest of the "Devil's music." 
California bass man Cody "Goose" Siragusa and Hoosier drummer deluxe Danny Lee Beasley shared a love of the old man's music and a serving job in Wrigleyville; enough said. Their duet turned trio with guitarist and North Avenue homeboy Colin Brennan, a bastard of city and country but Irish enough to break a string each night. Then somehow Chauncey Davis-Mauney snuck in from Mississippi with a harmonica and the room was full. 
Road tested and dancer approved, OGD is an all-singing, all-writing, washer pitchin' electric hayride on fire. BYOFireworks. Goose handles the matches.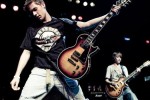 SCHOOL OF ROCK (All Stars)
The Oak Park and Chicago Schools have put together an All Star cast of players to
perform some classic songs.
For more than a decade, School of Rock has been inspiring kids to rock on stage and in life. Through its performance-based approach to music lessons, School of Rock students are inspired to learn, more motivated to excel and more confident as a result. To date, School of Rock students have played thousands of concerts to more than 100,000 people at such legendary venues such as CBGB's, The Trocadero, The Knitting Factory, The Whiskey, The Roxy, The Experience Music Project, as well as major music festivals like Lollapalooza and Austin City Limits.