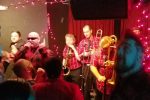 TOXIC TOAST
(tribute to Mighty Mighty Bosstones)
What do you do when one of your favorite bands of all time just…..disappears? Well, this group of guys from the Windy City of Chicago, Illinois took matters into their own hands. Consisting of various members of current and past bands in the Chicago scene, Toxic Toast is set to fill the void that has been left by the departure of the Mighty Mighty Bosstones from the music world. While there is only one Mighty Mighty Bosstones, this group of diehard Bosstones fans from the midwest come as close as you can get to the live show energy that 'Tones fans are used to without having Dicky, Joe and Johnny Vegas on the stage.
Comprised of Katz (ex-Drawing A Blank), Richo (ex-Jinxpack, Counterpunch), Eric (Counterpunch), Greg (ex-Drawing A Blank), Kevin, Brian and Mike (ex-The 9 Spot, Ready…Break) and our Bosstone Josh, Toxic Toast has quite a bit of collective experience performing. Hopefully this has become evident as Toxic Toast has already begun unveiling the heat on Chicago and has even gained recognition from the boys in the Bosstones themselves.
Fear not ladies and gentlemen, while the Mighty Mighty Bosstones have gone away (only for a little while, one would hope!), Toxic Toast is here to say…."The Devil Is Back, So Girls Dry Your Tears!!!"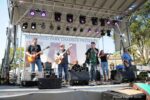 WHISKEY MICK
Chicago's premier band for fun, high-energy Irish rock.