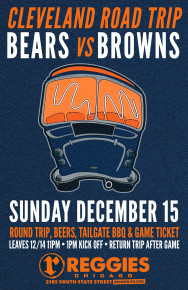 Road Trip to Bears at Browns
Ride with the Reggies crew and root for your team at the Bears vs Browns game in Cleveland on December 15th!
Includes round trip bus ride, beers + refreshments on bus, tailgate BBQ in stadium lot, and Ticket to Bears at Browns game at the EnergyFirst Stadium in Cleveland!
Depart from Reggies the night before (12/14) at 11PM, drive overnight to Cleveland, and root on your team at the 1PM EST game! Return trip back to Reggies after the game ends
Buy your ticket online or sign up with your bartender!